More warehouses and distribution centers have begun popping up near the Interstate 65 exit in Franklin, as central Indiana's industrial boom continues to fan farther out from Indianapolis.
Already, the eastern portion of town has about 4 million square feet of industrial space either in use or currently under construction. But that figure is poised to nearly triple in the coming years, experts say, as more developers work to create massive business parks in the Franklin area to ensure close highway access for would-be users like logistics providers and advanced manufacturing companies.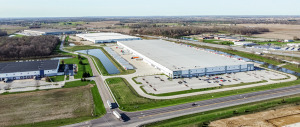 "We've been seeing a lot more industrial interest and activity in the area over the past couple of years in terms of investment," said Amanda Rubadue, vice president of economic development for Aspire Johnson County, a group focusing on attracting new business to the county.
"We expect to see some additional movement here within the next year or so, too. It's all coming down to the connectivity [to Interstate 65] and access to a strong workforce, both from the south and from the north, in Indianapolis."
Developments in Franklin's eastern corridor–which have generally been focused on warehousing–have already created about 2,100 full-time jobs, and many more are expected to come as part of future developments.
Franklin has long been a solid market for a few large industrial users, but it wasn't until recently that more local and national developers began taking notice of the town's position—and potential—within the southern Indianapolis submarket.
For example, Fishers-based Sunbeam Development Corp. recently completed the first building in its proposed I-65 South Commerce Park northwest of the interchange at State Road 44; Amazon plans to put a sorting facility in the structure by the end of this year, creating about 1,000 jobs on its own.
Initially pitched as a 213-acre property consisting of four buildings, the Commerce Park project has swelled to more than twice that size and could eventually comprise up to 6.8 million square feet across nine buildings.
The beginning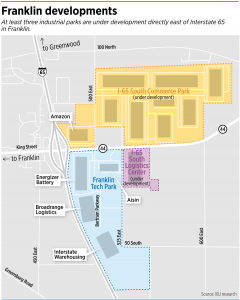 Industrial development at the Franklin interchange largely began in 2001 when Indianapolis-based Denison Properties broke ground on the now 345-acre Franklin Tech Park. Additionally, several other smaller industrial projects have sprouted up along U.S. 31 and elsewhere in Franklin over the past 25 years, as well.
The tech park, which runs north-to-south mostly along Interstate 65, consists of four buildings, but there is room for a fifth at its southernmost point.
The first building to be constructed was a 146,000-square-foot facility for Seymour-based car parts manufacturer Aisin at the southeast corner of Bertram Parkway and State Road 44. It was finished in 2005 and is undergoing an expansion to about 299,000 square feet.
The Aisin property was quickly followed by a like-sized building for Interstate Warehousing—a Fort Wayne-based company focused on cold storage—that itself has since grown to about 860,000 square feet.
Over the years, the park's footprint has expanded northward along Bertram Parkway, with the final of its four buildings coming online in 2020, right at the southeast corner of the interchange. That 933,000-square-foot building—now leased by battery manufacturer Energizer Holdings Inc.—was developed through a partnership between Denison and Fishers-based Sunbeam Development Co.
The other building in the park, at 500 Bartram Pkwy., was previously home to Cooper Tire & Rubber Co. which relocated to a larger Whiteland box last year. That nearly 809,000-square-foot structure was acquired by Atlanta-based MDH Partners and will soon be used by Broadrange Logistics, also based in Atlanta.
Mac McNaught, president of Denison Properties, said he expects there will be additional growth in the Franklin area because of investments that have occurred in the area over the past 20 years and a continued glut of demand for new industrial space. He said his firm also has interest in expanding its development further to the east in Franklin and Johnson County.
"It's an area that's attractive for long term investments by institutional owners, and that's critical" to Franklin's potential growth, he said.
Industry experts generally agree, saying current development is likely to be only the start of a boom in industrial projects for the town.
After all, Sunbeam is developing its massive industrial park just across State Road 44.
And Atlanta-based Core5 Industrial Partners is nearing completion on its own single-building industrial project, a 955,000-square-foot building just east of Franklin Tech Park, occupying about 63 acres. Similarly, other developers have been poking around looking for land they can acquire and convert from agricultural uses to light industrial.
"Franklin's been a little bit of a kind of an outlier for quite some time and it's certainly coming into its own now," said Michael Weishaar, an industrial broker with the Indianapolis office of Chicago-based Cushman & Wakefield. "The opportunities from a land perspective are vast down there, and you have some of the main players [in development] who have been down there for a while."
Weishaar pointed to groups like Sunbeam, Core5 and GDI Companies (a partner on the 63-acre parcel) as indicative of steeped interest in the Franklin corridor.
Big upsides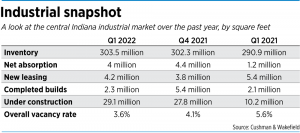 For developers and brokers alike, Franklin has a lot going for it from an industrial point of view.
First and foremost is its proximity to the interstate. But it also is the second most populous city in Johnson County (after Greenwood), with about 27,000 people. It is also considered by industry experts as one of the strongest labor markets in the southern half
of central Indiana.
"There's an incredible pipeline that's building up there; it has the workforce, the labor availability down there, and the quality of labor," said Houston Hawley, vice president of development for MDH Partners, which made its entrance into the Indianapolis market with the acquisition of the tech park building,
"As more buildings come online, that will be a logistics hub, because it has the people" and can attract workers from other parts of greater Indianapolis.
He said MDH is eyeing additional properties in Franklin, Whiteland and elsewhere for future development or investment.
Experts say both Franklin and Whiteland—just one exit apart along I-65—are each key to the south submarket of Indianapolis, making it difficult to talk about one without the other because of their proximity.
"They are essentially lumped together, just by virtue of the fact that the path of progress for both Franklin and Whiteland keep coming to meet each other," said Steve Schwegman, managing director of the Indianapolis office of Chicago-based brokerage JLL.
"Franklin is moving north, and Whiteland is moving south, so from an industrial development standpoint and geographically, there's almost no difference between the two."
And unlike Greenwood which is generally out of available land for industrial development—Franklin and Whiteland are still willing to offer incentives for new light industrial projects.
Making its case
Franklin's industrial growth has been generally outpaced by that in Whiteland, which as seen about 2.7 million square feet of industrial space built since 2017, according to Cushman & Wakefield, all built between 2020 and 2021. Another 3.8 million square feet is under construction in the Whiteland area.
Overall, Indy's south submarket has seen just under 10 million square feet of industrial development since 2017, with another 6.6 million square feet now under construction.
Cushman & Wakefield's numbers for 2022 show there's about 158 buildings in the south submarket overall—Johnson County, generally. The inventory, however, accounts for only about 8% of central Indiana's total of about 303 million square feet. The submarket has a direct vacancy rate around 4.2%.
That's not to say that Franklin doesn't have advantages over an area like Whiteland, which has a much smaller footprint and has gone full-on in embracing its role as a warehousing district.
Franklin's downtown area and the presence of Franklin College also are beneficial, Aspire's Rubadue said. So, too, is the town's effort to strike a solid balance between its entertainment and employment offerings.
"Franklin has done a good job of being smart about where [industrial areas] are," she said. "They're adding additional quality of life amenities, to continue that small town feel…but they're still focusing on those higher paying jobs so that residents can find places to work."
Rubadue said advanced manufacturing is likely to be a priority when attracting new business to the Franklin area, which could boost high paying jobs and attract more people.
"That's part of our strategic plan and an area that we're very focused on," she said. That's an area that is growing currently, so I think that that's why it has become a higher priority for Franklin. It's about smart development."
And most of the farmland available for industrial redevelopment is east of the Interstate, with a general concentration around State Road 44, with more retail and commercial development to the west of Interstate 65.
Weishaar said he thinks Franklin is doing fine in its efforts to become a big player in the south market of Indianapolis industrial development, and believes there's plenty more opportunity for growth coming down the pike.
"Franklin has really kind of developed into its own sub-market," Weishaar said. "It's still significantly smaller than that of a Plainfield or a Whitestown, but the opportunities from a land perspective are vast down there."•
Please enable JavaScript to view this content.