Southern Indiana practitioner Leanna Weissmann will be the next Indiana Court of Appeals judge, Gov. Eric Holcomb announced Tuesday.
The Republican governor selected Weissmann, of Aurora, to succeed now-Senior Judge John Baker, who retired earlier this summer. Baker likewise grew up in the Ohio River town of Aurora.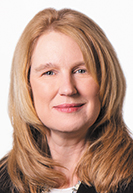 Weissmann was selected from a pool of three finalists, which also included Vigo County Judge Lakshmi Reddy and New Albany lawyer Lisa Reger.
"I couldn't go wrong — I couldn't make a wrong decision," Holcomb said of the three finalists, selected by the Judicial Nominating Commission.
The governor highlighted Weissmann's extensive experience in appellate litigation, dating back to her first post-law school job as a clerk for then-Court of Appeals Judge Robert Rucker. Weissmann has since gone on to argue dozens of cases before the Indiana Court of Appeals and Indiana Supreme Court, as well as a successful argument at the United States Supreme Court.
Weissmann was also praised for her commitment to the law outside of the courtroom, with Chief Justice Loretta Rush noting that Weissmann once created a board game to teach civics education to high school students.
"Your 14 colleagues and the one you're replacing view that as one of the most important aspects of our job," COA Judge Robert Altice said of judicial community service. "You'll fit in fine in that regard."
A graduate of the Indiana University Robert H. McKinney School of Law in Indianapolis, Weissmann told well-wishers at Tuesday's virtual press conference that becoming an appellate judge has been "a dream" since her clerkship for Rucker in 1994 and 1995. She has practiced before the appellate bench for years, and she is excited to now call the judges her colleagues.
"I am humbled and honored to have this trust placed in me," she said.
Please enable JavaScript to view this content.