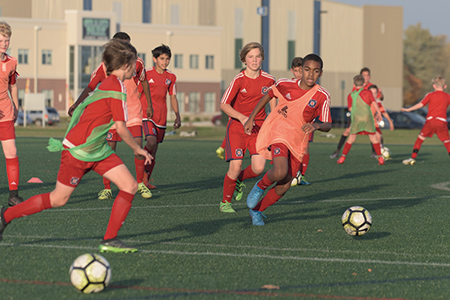 The Westfield City Council approved two resolutions Monday to deal with questions involving financial management of Grand Park Sports Campus.
On Friday, Westfield Mayor Andy Cook responded to recent allegations of missing money at the sports park by announcing an independent review of all city financial practices. Three days later, the council unanimously approved its own resolution to establish what it saw as a higher level of scrutiny by instead calling for a "certified, independent audit of all financial records and contracts of Grand Park."
Council president Joe Edwards said the difference was more than semantics.
"A review reports on the plausibility of the financials of the companies or outfits being examined. Only limited testing is conducted for a review," Edwards said. "To me if we're going to do this, we ought to do it right."
The other resolution unanimously approved by the council Monday bars the Westfield Redevelopment Authority and Redevelopment Commission—and, by extension, Grand Park—from receiving any money from the 2021 budget until its agreements are memorialized and approved by the council.
"Moving ahead, we have to be on the same page," council member Cindy Spoljaric said.
Troy Patton, an at-large member of the council, was the first to allege in mid-July that Westfield-based Bullpen Tournaments LLC—which manages Grand Park's ball diamonds—owes the city more than $470,000, according to a 2014 agreement.
Members of the city's administration have said the agreement is no longer valid, and Bullpen Tournaments President Blake Hibler said the company "always completely fulfills and exceeds its contractual obligations."
Patton suggested the city cease its planned review and instead collaborate with the council on the investigation's scope and key players.
"It would've been great to actually work together, as opposed to throwing out a press release on something that is clearly—I would say—superficial at best," Patton said. "It has to be a collaborative effort, and at this point it is not that."
Todd Burtron, Westfield's chief of staff, said the mayor's appointed team of outside consultants would do more than scratch the surface. The team consists of accounting firm BKD CPAs & Advisors, public sector advisory firm Baker Tilly Municipal Advisors LLC and law firm Taft Stettinius & Hollister LLP.
"What you'll find with the team the mayor has appointed will be more than superficial," Burtron said. "You'll find this is very high-level and comprehensive. In the end, it will benefit us all."
Please enable JavaScript to view this content.