Westfield City Councilor Scott Willis on Thursday announced he will run for mayor in 2023.
Willis, a Republican who launched an exploratory committee in September 2021, said he would make managing Westfield's growth a major theme of his race for mayor.
"It should be no surprise that we are experiencing significant growth," Willis said. "In fact, we are currently the fastest growing city in Indiana."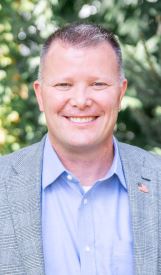 Westfield's population increased from 9,293 in the 2000 U.S. Census to 46,410 in 2020.
The growth coincided with the construction of Grand Park Sports Campus. The city is currently reviewing bids from seven companies interested in owning or operating the complex through a public-private partnership.
Willis has been vice president of executive recruiting firm Theoris Search since 2019. He previously ran Arnett Management Solutions Inc., an executive search firm he founded in 2006. The Purdue University graduate was a colonel in the U.S. Marine Corps from 1992 until March.
Willis' announcement sets up a primary election in May 2023 with fellow Republican City Councilor and Westfield High School Football Coach Jake Gilbert, who announced his candidacy in January.
Mayor Andy Cook, also a Republican, has served in office since 2008. He has not publicly announced if he will run for a fifth term.
Mayoral elections are set for Nov. 7, 2023, with the winner taking office Jan. 1, 2024.
Willis said his goals as mayor would be to diversify the city's tax base to keep taxes low, add quality and unique housing options, build the city's infrastructure and connect the community with a trail system.
"Through strategic, smart and intentional growth, I want to take Westfield to the next level … to its highest potential of being a thriving city," he said.
Willis was elected to the city council in 2019. In his most recent campaign finance report in January, he reported receiving $126,677 in political contributions in 2021 and $125,814 cash on hand.
Willis unsuccessfully ran for state Senate in 2016 against Luke Kenley.
Please enable JavaScript to view this content.