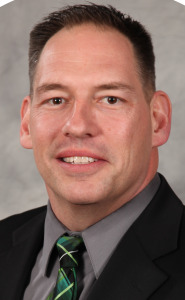 Jake Gilbert, head football coach at Westfield High School and a member of the Westfield City Council, announced Sunday that he plans to run for mayor of the fast-growing Hamilton County suburb.
Gilbert, who has coached the Shamrocks since 2010 and was elected to the city council in 2019, is seeking to succeed fellow Republican Andy Cook, who has been mayor ever since Westfield converted from a town to a city in 2008. Cook has not publicly announced whether he plans to run for a fifth term.
Mayoral elections are set for 2023, with the winner taking office Jan. 1, 2024.
Gilbert, 45, has coached Westfield to four state championship games and the 5A state title in 2016. The team has reached the 6A state championship game the past two years, losing to Center Grove High School both times.
"As the next mayor, I will work each day to ensure we are a connected community focused on realizing our full potential," Gilbert said in a statement announcing his election plans.
Gilbert, who is self-described "conservative who believes faith and family are the bedrock of strong communities," is also president of the Wellbeing Coalition of Westfield.
Gilbert isn't the first person to declare his interest in becoming mayor. First-term council member Scott Willis launched exploratory committee for election in October. Willis, a Republican, last week reported receiving $126,677 in political contributions in 2021 and $125,814 cash on hand.
Willis unsuccessfully ran for state Senate in 2016 against Luke Kenley.
Please enable JavaScript to view this content.