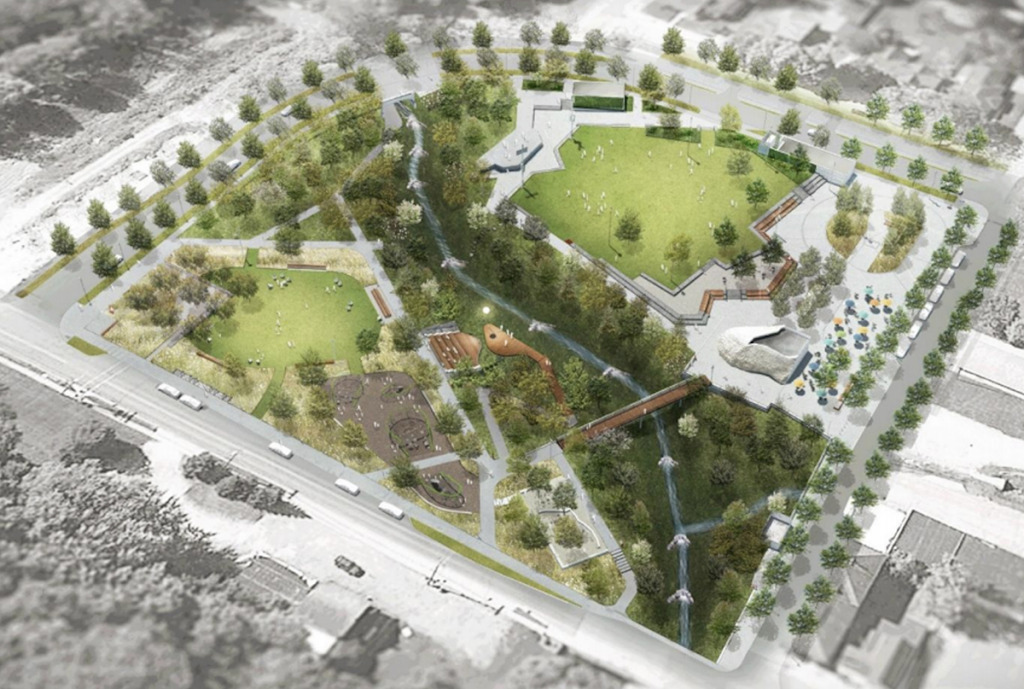 Westfield officials have redesigned their proposed $35 million Grand Junction Plaza project to avoid spending the extra millions it would take to build the park as it was originally approved.
Jeremy Lollar, the city's public works director, updated the Westfield City Council on the project's higher-than-expected construction bids on Monday and detailed the changes made to avoid spending $13 million more than what was budgeted.
The new design for the six-acre park on the southwest side of Main and Union streets features a concrete stage instead of an amphitheater and replaces a permanent skating rink with a seasonal installation. Other changes include a consolidated playground, less-expensive materials throughout the park and the elimination of a creekside seating fixture and a trailhead building with public restrooms.
"We had to start doing some value engineering and making tough decisions," Lollar said.
With those changes, Lollar said the project isn't expected to go over budget. The latest guaranteed maximum price accepted by the city's redevelopment commission clocks in at $31.5 million.
Council member Scott Frei said it takes some "fine nuance" to claim the project isn't over budget, and other council members were even more critical.
Council member Cindy Spoljaric said the $35 million project was controversial when its funding was approved by a 4-3 vote in 2019, so she's even more flustered now to see the park won't be built as promised.
"We were sold a vision," Spoljaric said. "For our community to find out we can't even afford what was in that plan—for those dollars—is hard to accept. We're not getting everything we'd hoped for."
Council member Troy Patton said he'd like to poll the community to see if residents felt they were still getting the park they wanted.
"This is so disheartening to see," Patton said. "Frankly, we've soiled our pants and now everybody has to smell it."
Lollar said removing a building at the park's trailhead, featuring public restrooms and a gathering space, will save the city roughly $3 million.
"What we are going to deliver is the utilities and everything necessary below grade to be able to come back in and add this building to the project at a later date, once the $3 million is available," he said.
He said the city is taking the same approach with the plaza's amphitheater. By building just the infrastructure and a concrete stage, Lollar said the city will save $5 million now and pave the way for a full amphitheater to be built in the future.
Lollar said the city will save $3 million on mechanical infrastructure by choosing to install a temporary skating rink each season instead of erecting a permanent skating facility. Lollar said the city's approach would be similar to Carmel and Noblesville's, and that they'd use an outside contractor to install the rink.
Finally, Lollar said the last major changes would replace a stair-stepped seating area overlooking the creek that runs through the property with a more passive seating area. Also, a separate 3- to 5-year-old playground will be absorbed by an adjacent play area that will be paid for in part by the city's park impact fees.
Lollar said the park's new design still delivers what the community asked for, and the Grand Junction Plaza Task Group is prepared to seek corporate sponsorships for the amphitheater.
"We would be happy to name that amphitheater pavilion after whatever," Lollar said. "Duke Energy, for example."
He said, with another $8 million, he could bring the project closer to its original vision.
Marla Ailor, vice president of the Fiscal Conservatives of Hamilton County and a Westfield resident, said so much of the downtown's development—including State Road 32's rework and Old Town Cos. Union Station project—has been based around the project as it was originally proposed.
"It's as if this is what we do in Hamilton County. We start a project we know is going to go over-budget and we turn around and ask for more money," Ailor said. "Budget should be used as a verb, not as a noun. They need to slow down and assess where they are."
Please enable JavaScript to view this content.