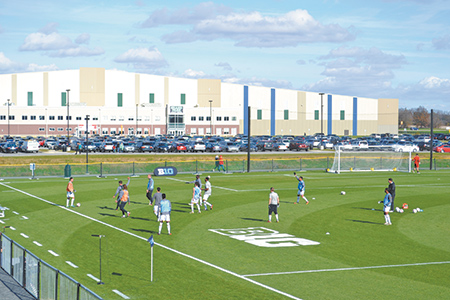 The Westfield Redevelopment Commission is seeking a buyer or new manager for Grand Park Sports Campus, according to a request for proposals it issued Thursday.
The RFP says the commission "seeks proposals from qualified respondents interested in purchasing the sports campus known as 'Grand Park' in Westfield, Indiana, or in entering a public-private agreement to operate Grand Park pursuant to Indiana Code 5-23." Indiana Code 5-23 deals with requirements for public-private agreements.
The RFP also says a "successful respondent must prove the financial history to undertake their proposed form of purchase or operations, and also be able to provide the services called for and described herein, which shall consist of all supervision, equipment, labor, and all other items necessary to ensure the premium operation of all aspects of Grand Park."
Respondents are required to inform the commission of their intent to respond to the RFP by April 1. Proposals are due by 3 p.m. June 22.
According to RFP requirements, the buyer or manager must retain city employees at the park for at least two years.
The 400-acre Grand Park, which opened in 2014, has 31 soccer fields, 26 baseball diamonds, two administration buildings, seven concession stands and a 378,000 square foot multi-use event center. The Indianapolis Colts moved their annual summer training camp to the park in 2018.
According to Westfield, Grand Park draws 2.5 million visitors each year and helps the city attract more than $1.5 million in economic development annually.
Grand Park is owned by Westfield, which uses Bullpen Tournaments to manage the baseball diamonds and tournaments at the park.
In January, the city entered into a professional services agreement with Fishers-based Legacy Sports Group to provide business development and support services. Legacy Sports Group is led by William Knox, who was city-appointed director of Grand Park from 2016 to 2021.
Westfield Mayor appointed Matt Trnian to replace Knox in January.
The Westfield City Council has engaged in several public squabbles related to Bullpen Tournaments and its management of the baseball diamonds. Last July, the council imposed new oversight of the park's contracts after council member accused the organization of failing to pay the city $470,000 in admission fees.
Late last year, The Indiana State Board of Accounts released a report that said the city did not comply with state laws and guidelines when it entered into its informal agreement with Bullpen Tournaments.
A message left with Westfield Director of Enterprise Development John Rogers, who is listed as the contact on the RFP, was not immediately returned.
Please enable JavaScript to view this content.