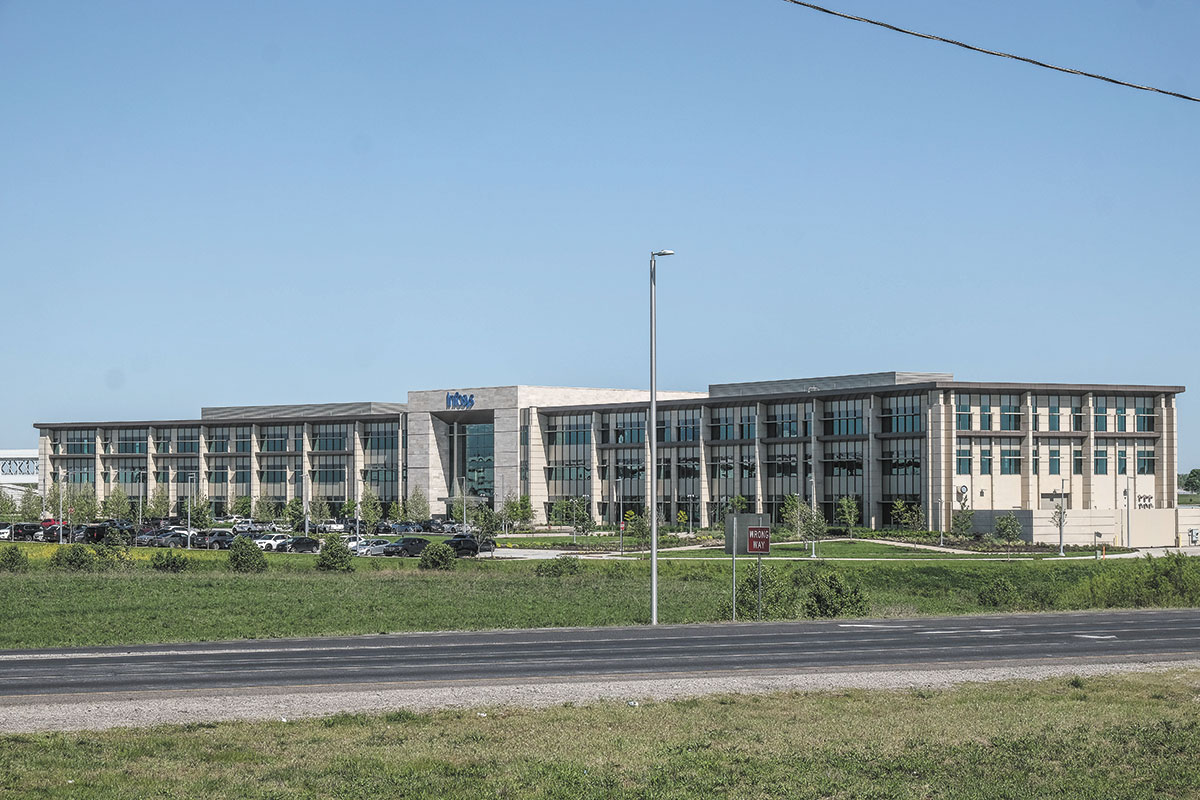 With much fanfare, India-based tech giant Infosys Ltd. broke ground in November 2018 on the first phase of what the company said would eventually be a $245 million, 141-acre campus with 786,000 square feet of facilities, including a training center, conference and recreational facilities and other amenities on the site of the old Indianapolis International Airport terminal.
The consulting and information technology services company, which as of earlier that year had only 150 Indianapolis employees working in offices at OneAmerica's downtown tower, also pledged to have 3,000 Indianapolis-area employees by the end of 2023.
Today, Infosys appears far from achieving that vision—and it's uncertain when, or if, it ever will.
Many people bought into the grand plans.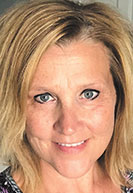 Lisa Bentley, executive director of the Indy Gateway Inc. community development corporation, saw the project as potentially transformative for the west side of Indianapolis. She envisioned Infosys as a draw for restaurants and other businesses that would spring up nearby to serve employees.
"We were really excited because we felt like it would bring a lot of secondary development," Bentley told IBJ this week.
Gov. Eric Holcomb's economic development agency and Indianapolis Mayor Joe Hogsett's administration also welcomed Infosys, offering it more than $100 million in incentives based on the company's investment and hiring plans.
But now the company is tight-lipped about its local employment numbers—and whether its plans for a grand west-side campus have changed.
The site currently consists of a three-story office building with a sparsely occupied parking lot at the corner of Sam Jones Expressway and South High School Road, plus a pedestrian bridge over South High School Road between the office building and a renovated parking garage.
On Monday, only about a dozen cars were in the office building's parking lot. The parking garage appeared unused, with orange traffic cones blocking its entrance. There was no sign of construction or other activity to suggest that further development is in the works.
"I think it looks nice, but I think the employee numbers aren't there to drive the secondary development at this point," Bentley said.
IBJ left a written message for Infosys' top local executive, Richard Cardwell, at the company's airport office Monday morning. As of IBJ deadline, Cardwell had not responded to that message.
Mary-Ellen Harn, a corporate spokeswoman for Infosys, also declined an interview request from IBJ. Harn said via email, "We remain committed to our Indianapolis-based operations and are gearing up our staffing. As we indicated earlier, the Indianapolis campus will host client-based services, an innovation center and serve as a training facility. We will also be hosting an opening event."
The opening event had been scheduled for May 22, but last week Harn said the event would no longer be on that day and was being rescheduled for a yet-unspecified date.
Harn also declined to answer questions about how many Indianapolis employees Infosys currently has or whether its original plans for the Indianapolis project have changed.
Established in 1981, Infosys is now an $18.2 billion company with more than 343,000 employees around the world.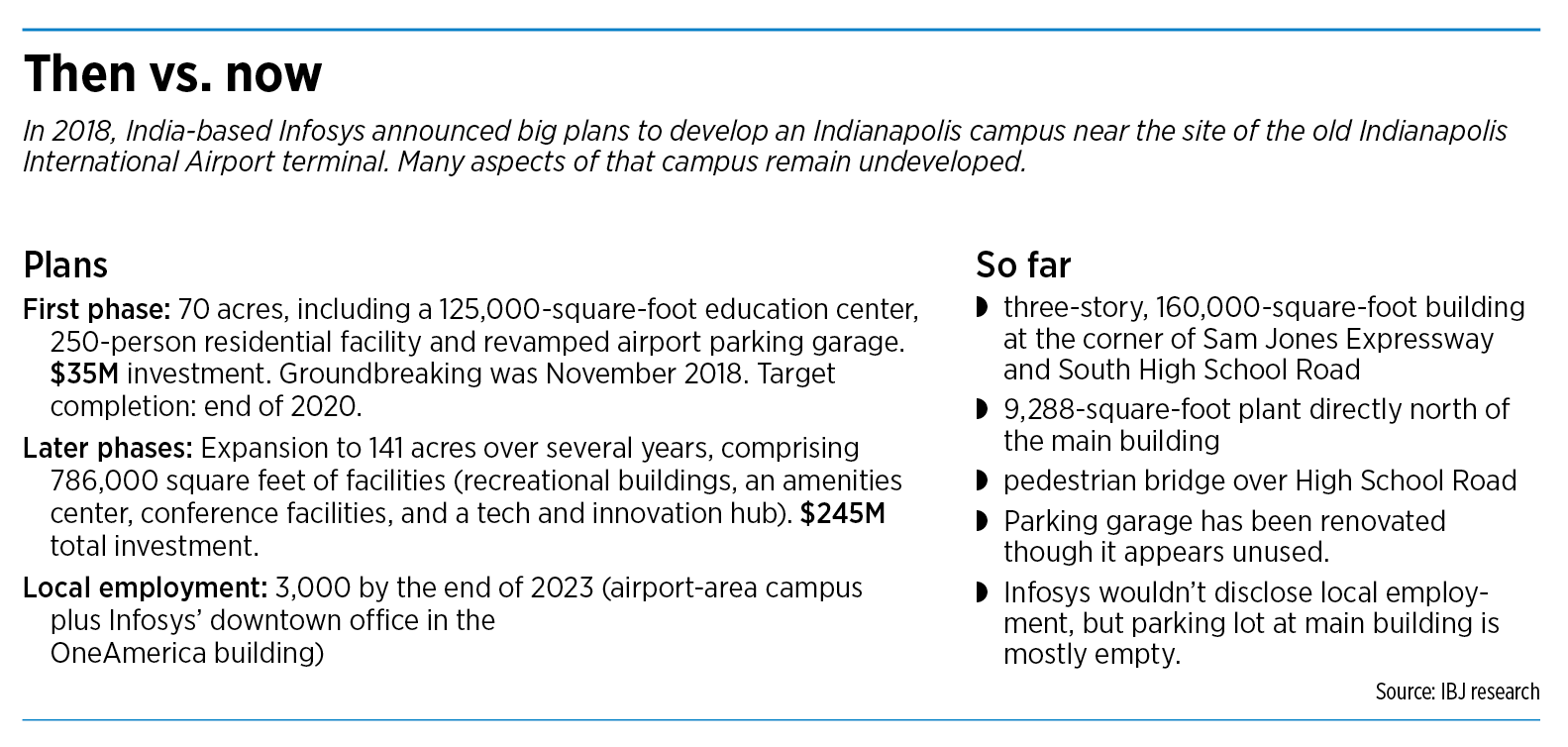 Big incentives offered
In 2019, the Indiana Economic Development Corp. offered Infosys a combined $86 million in tax credits, training grants and other incentives based on the company's planned $245 million investment and 3,000 hires.
But to date, the company has claimed only $15.4 million of that amount. IEDC incentives are performance-based, meaning a company cannot claim them until it has made an investment or hired Hoosiers.
Of that $86 million in incentives, the single largest component was $56.5 million in tax credits based on Infosys' hiring plans. According to the IEDC's online transparency portal, the company has claimed $2.82 million of that $56.5 million. It has until the end of 2026 to claim the rest if it meets its hiring goals.
IEDC spokeswoman Erin Sweitzer said Infosys is in compliance with all of its state incentives agreements.
The city of Indianapolis also provided significant incentives to Infosys.
The land on which Infosys' new training center sits was previously owned by the Indianapolis Airport Authority. In 2018, the airport authority agreed to sell 58 acres to the city for $4.4 million, which the city then sold to Infosys for $1.
The airport authority also renovated the 4.3-acre parking garage that had served its old airport terminal, then sold it to the city for $12 million under a seven-year contract. The city also sold that property to Infosys for $1.
Also as part of the deal, the airport authority granted the city a 10-year option to purchase 74 acres for future phases of development at the Infosys site. Until that option expires in 2028, the property can't be developed by anyone else.
Mayor Hogsett's spokesman, Mark Bode, referred questions about the project to the city's Department of Metropolitan Development.
DMD spokeswoman Hannah Thomas told IBJ via email that the city "is coordinating with the state of Indiana and Indianapolis Airport Authority to ensure that Infosys' partnership with various parties is in compliance with the terms established in the deal."
"Infosys has told us they remain committed to Indianapolis as a North American hub for training and operations, and conversations between the partners continue to be ongoing," Thomas said.
Thomas also said the city recognizes that the pandemic has created challenges for Infosys and other companies, but "when it comes to responsible corporate citizenship, the city continues to have high expectations for Infosys' engagement with the west side community."
Disappointment, frustration
The west-side Infosys site is in the district of City-County Councilor Jared Evans. In an interview with WXIN-TV Channel 59 last month, Evans expressed disappointment about the project.
"We had hoped that Infosys would be a community partner, someone at the table trying to help us advance the west side, and that has just not been the case," Evans told Fox 59. Evans also said Infosys had told the city it plans to build two more buildings at the site.
Evans declined IBJ's interview request through City-County Council spokeswoman Sara Hindi. IBJ also left a phone message with Evans directly late Monday afternoon, but that message was not returned.
Bentley, the Indy Gateway director, said Infosys has in the past had representatives on its board. Indy Gateway works to promote west-side economic development and rejuvenation; its footprint includes the Infosys site.
But Infosys declined to financially support the organization as a corporate partner, Bentley said, despite many meetings and conversations. And she said she's had no direct conversation with Infosys since March 2022, when local Infosys exec Cardwell stepped down from his Indy Gateway board seat.
"I think what's frustrating is the lack of transparency of what their plans are," Bentley said.
The pandemic likely affected Infosys' plans for Indianapolis, she said, and she also surmised that changes in top leadership might be a factor. Ravi Kumar, an Infosys president who had been leading the company's U.S. growth plans, left the company last fall.
U.S. market: plans vs. reality
The Indianapolis site was to have been part of a larger U.S. growth play for Infosys.
In May 2017, the company announced its intent to open four U.S. technology and innovation hubs, hiring 10,000 Americans over the next two years. Indianapolis was announced as the first location, though at that time the company said it planned to hire 2,000 people here. (The extra 1,000 jobs, and the west-side campus, weren't announced until the following year.)
Later in 2017, Infosys announced that it would also establish hubs in Providence, Rhode Island, and Raleigh, North Carolina.
In both those states, Infosys appears to have fallen short of its original ambitions.
The Rhode Island Commerce Corp. offered Infosys up to $14.2 million in state incentives—$13.7 million in tax credits plus a $500,000 grant. Those incentives were based on the company's plan to open a 50,000-square-foot innovation and design center in the capital city of Providence and hire 500 employees.
In a press release issued in February 2019 when the Providence center opened, the state said Infosys had hired more than 100 people in Rhode Island.
But Infosys hasn't yet received most of its Rhode Island incentives—which, like Indiana's, are performance-based. "Infosys has not yet received the tax credits pending fulfillment of the obligations outlined in their incentive agreements," Rhode Island Commerce Corp. spokeswoman Lindsay Russell told IBJ via email.
According to North Carolina Department of Commerce spokesman David Rhoades, North Carolina offered Infosys a grant of up to $22.4 million, provided the company created 2,000 jobs and invested $8.73 million in the state.
North Carolina hasn't yet paid out any money, Rhoades said. Although Infosys met its investment requirement, he said it hasn't yet met the hiring requirement.
According to the terms of the agreement, he said, Infosys needs to add at least 1,100 North Carolina jobs before it qualifies for any payout. As of 2021—the most recent year for which data is available—Infosys had retained 1,162 existing North Carolina jobs but had added only 131.
"We were hopeful for additional jobs," Rhoades said.
The North Carolina incentives agreement is for 12 years, he said, so Infosys has until 2029 to hire North Carolinians and claim the incentives.
"They are still a participant in our program, and they're still a valued employer in the state," Rhoades said. "We're glad they're here."•
Please enable JavaScript to view this content.