3:20 p.m., Thursday

State COVID testing, vaccination clinics to be closed Friday

The Indiana Department of Health has announced that all state-run COVID-19 testing and vaccination clinics will be closed Friday due to hazardous weather conditions.
This includes the clinic across from the Indianapolis Motor Speedway on West 16th Street..
Additional updates to state-operated sites will be posted at www.coronavirus.in.gov and www.ourshot.in.gov as needed.
Individuals with appointments at a state-run site will be notified with instructions to reschedule.
———–
10 a.m., Thursday
Duke Energy warns storm likely to cause widespread power outages
Duke Energy Indiana said heavy snow and freezing rain expected from Thursday's winter storm are likely to cause widespread power outages throughout the state.
In advance of the storm, Duke staged nearly 1,500 workers—power line technicians, damage assessors and vegetation workers—across its service area. Those workers include Duke Energy crews normally based in North Carolina and South Carolina who traveled to Indiana to assist locally based crews.
Duke Energy Indiana supplies electricity to about 860,000 customers in a 23,000-square-mile service area that includes central and southern Indiana. It does not include Marion County, which is serviced by AES Indiana (formerly Indianapolis Power & Light Co.).
Duke Energy urged customers on Thursday to make alternative housing arrangements in case they lose power during what is predicted to be a multi-day period of extremely cold temperatures. Households that have elderly residents or individuals with special medical needs are especially urged to make such arrangements.
Following the storm, as conditions allow, damage assessment crews are expected to assess the extent of damage—which can sometimes take several hours after major storms that cause widespread damage and dangerous driving conditions.
Duke Energy plans to provide estimated power restoration times as soon as those times are determined. The company also will provide regular updates to customers and communities through emails, text messages, outbound phone calls, social media and its website, which includes power outage maps.

———–
7 p.m., Wednesday
Children's Museum, other attractions to be closed Friday
The Children's Museum of Indianapolis will be closed Thursday and the museum's First Thursday Night event is canceled. The museum said Thursday's Black History Month events will be rescheduled.
Other museums and attractions closed on Thursday include the Eiteljorg Museum of American Indians and Western Art, Eugene and Marilyn Glick Indiana History Center, Indianapolis Motor Speedway Museum and Conner Prairie.
—
3:15 p.m., Wednesday
Indianapolis suspending trash service on Thursday, Friday
The Indianapolis Department of Public Works announced Wednesday that all Thursday and Friday residential and heavy trash pickup, as well as curbside recycling service, would be suspended.
The suspension includes service completed by Republic Services and Waste Management.
Affected residents will receive double service on their next service day, according to DPW. For standard trash collection, that will be next Thursday and Friday. Extra bags of waste will be serviced if placed next to carts for pickup.
Regarding heavy trash collection, homes serviced by Indy DPW or Waste Management will be eligible for double pickup (up to four items) on their regularly scheduled heavy trash service day in March.
Homes serviced by Republic Services may place heavy trash items at the curb on any other trash service day.
————
3:10 p.m., Wednesday
Indy libraries close early Wednesday, won't open Thursday
The Indianapolis Public Library closed its locations at 2 p.m. Wednesday due to the approaching winter storm.
The library said it will remain closed on Thursday, and patrons should check indypl.org/open for updates about whether the library will reopen on Friday.
————
12:26 p.m., Wednesday
Holcomb touts statewide storm effort, urges extreme caution
Gov. Eric Holcomb on Wednesday gave details on efforts to combat the impending winter storm, describing the plan as one of the first truly statewide endeavors since he took office five years ago.
Emphasizing that the plan required cooperation from residents, Holcomb asked for Hoosiers to refrain from traveling if they don't need to. Civilians on the road could compound the problems state agencies already are dealing with heavy snow and treacherous ice.
Drive slowly, he said. Don't tailgate other vehicles. Be patient with snowplows clearing the roads. Don't go near downed power lines. Don't bring generators inside. Check on neighbors.
The Indiana Department of Transportation started 12-hour shifts on Wednesday morning. The agency has 1,500 employees operating 1,000 trucks carrying 215,000 tons of salt, INDOT Commissioner Joe McGuinness said.
Because the weather is expected to transition from rain to freezing rain and snow, it's difficult for INDOT to treat roads with salt and brine ahead of freezing temperatures.
The Indiana Department of Homeland Security has also activated 60 National Guard Teams to patrol roadways through the weekend to assist stranded motorists, if needed.
Hoosiers can monitor road conditions through INDOT by visiting trafficwise.org, or downloading the INDOT mobile app.

—————
10:30 a.m., Wednesday
Public COVID testing, vaccination clinics adjust schedules
The Indiana Department of Health and many local health departments are adjusting operations at their COVID-19 testing and vaccination clinics ahead of an approaching winter storm.
The IDOH said Tuesday that all state-run mobile clinics would close at 5 p.m. on Wednesday. The clinic across from the Indianapolis Motor Speedway also will be closed Thursday. State-run mobile clinics in Porter, La Porte, St. Joseph, Pulaski, Huntington, DeKalb, Cass, Fountain/Warren, Shelby, Madison, Howard, Vigo, and Vermillion counties will be closed Thursday as well.
Schedules for sites south of Johnson County will be assessed based on weather conditions. Updates to state-operated sites will be available at www.coronavirus.in.gov and www.ourshot.in.gov.
The IDOH said individuals with appointments at a state-run vaccination or testing site will be notified if the site closes and provided with instructions to reschedule. It also suggested calling ahead to COVID-19 testing or vaccination sites operated by local health departments to make sure the site is open for walk-ins.
This story is courtesy of WFYI News.
———

10:20 a.m., Wednesday
Indianapolis redistricting forums rescheduled
The Indianapolis City-County Council will push two redistricting forums back by a week for the weather.
A forum in Wayne Township, initially scheduled for Wednesday, will instead be held next Wednesday, Feb. 9. It'll start at 5:30 p.m. Northwest Middle School.
A forum in Pike Township, initially scheduled for Thursday, will be next Thursday. It's set for 5:30 p.m. at the Fay Biccard Glick Neighborhood Center.
———-
10 a.m., Wednesday
Indianapolis devoting 200-plus public works personnel to storm fight
The Indianapolis Department of Public Works announced Wednesday morning that it plans to respond to the winter storm barreling through central Indiana with more than 200 personnel working over several days in 12-hour shifts.
Workers from various disciplines will use their expertise to address specific aspects of the emergency, including fleet services, stormwater operations, forestry maintenance, traffic signal maintenance and snow plowing.
If a roadway is impassable due to high water or a downed tree limb, or if a traffic signal is malfunctioning, residents should contact the Mayor's Action at 317-327-4622.
Residents are encouraged to avoid travel starting Wednesday evening throughout the rest of the week. This will allow snow-plow drivers and other DPW crews plenty of space to clear roads and complete other necessary work.
Residents who park cars along DPW's regular plow routes are advised to park off-street if possible. They can follow @IndySnowForce on Twitter for regular updates, and the Indy Snow Force Viewer will be activated as trucks begin plowing snow from roads.
—-
7 p.m., Tuesday
State will have nearly 1,000 trucks treating, plowing
State highway officials said they will have nearly 1,000 trucks treating and plowing highways across the state beginning overnight Tuesday and into Wednesday morning.
The Indiana Department of Transportation said the trucks would remain at work through the duration of hte winter storm—and after to help with cleanup efforts.
"Road conditions across the state will be challenging as the storm moves through," the agency said in a statement. "INDOT's goal is to keep highways passable during the storm, but motorists that must travel should expect to encounter snow and ice covered roads, blowing and drifting and whiteout conditions."
Rain is expected across most of the state beginning Tuesday night leading into a wintry mix overnight. INDOT said that means, in most cases, it won't be able to pretreat roads in advance of the snow and ice. Without pretreatment, highways are more likely to develop slick spots and snow to stick to pavement and bridges.
A look at the conditions through Friday. Crews will be in at midnight to start prepping. Full call starts at noon tomorrow. https://t.co/jZ5qWIRgxM

— INDOT East Central (@INDOTEast) February 2, 2022
—
3:40 p.m., Tuesday
Residents can monitor snow-clearing efforts online
The city of Indianapolis said residents can get updates on efforts to clear streets at Indy Snow Force viewer online or by following the Indianapolis Department of Public Works on Twitter at @IndySnowForce.
The Indy Snow Force Viewer mapping tool will be activated once winter weather beings, the city said. Residents can use the tool to monitor where crews have recently plowed snow or treated roadways.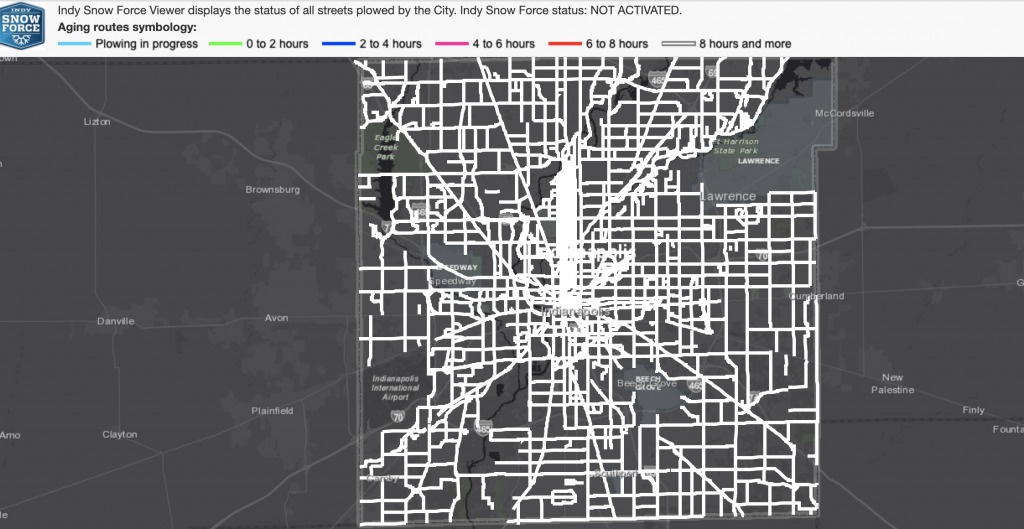 —
3 p.m., Tuesday
City urges residents to stay home, starting Wednesday night
The Hogsett administration say residents should avoid driving if possible, starting Wednesday evening, to avoid winter weather and make room for trucks and plows that will be salting and clearing roads.
"Those who must be on the roads are urged to drive with care, especially on bridge overpasses, hills, or locations known to become slippery," the city said. "Remember to leave home with plenty of time to safely reach your destination, allow plenty of clearance near other vehicles, and keep at least three car lengths' distance between your vehicle and Snow Force trucks."
The city urged drivers to carry blankets, a small shovel, and a charged cell phone in case of incidents.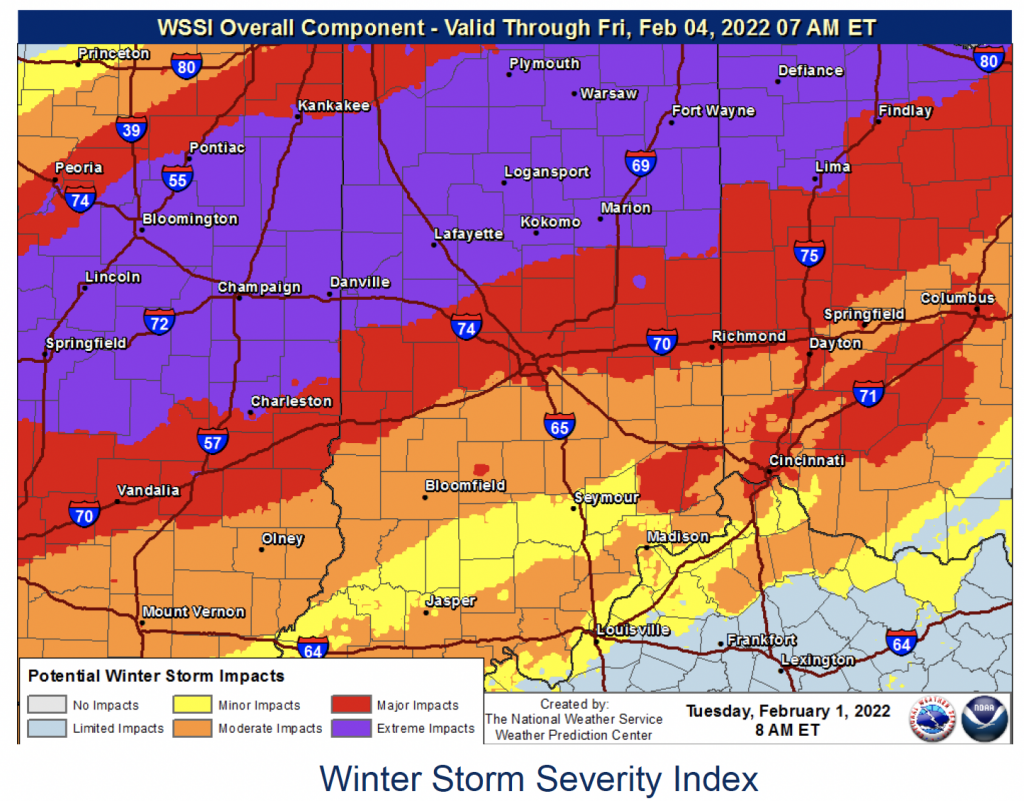 Please enable JavaScript to view this content.