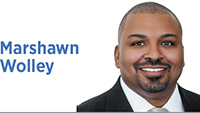 Let's start thinking about getting rid of the terms "minority" and "people of color." After all, they don't seem to explain much anymore.
Probably like you, I get annoyed with the thought police developing new phrases in their members-only meetings and then imposing them on us—usually on social media and in a screed. It's the PC police run amok—and I get it.
I am not suggesting we use a new phrase, but rather that we be clear in our language—specifically at the policy level. We should just say what we mean. Here's why.
According to the Immigrant Welcome Center, "Indianapolis is projected to be a majority-minority city by 2025."
Next year, we will begin a new census count. According to the most recent census estimates, Indianapolis is 55.9% white and 44.1% everyone else.
If projections are correct, rather soon, we will be redefining what a "minority" means, not only in the broader United States—which is expected to be majority-minority somewhere between 2041 and 2046—but right here in Indianapolis, and much sooner.
That matters for public-policy reasons.
In 1963, John F. Kennedy was attributed as saying a "rising tide lifts all boats" in a speech advocating for a dam. Ted Sorensen, Kennedy's speechwriter, noted that the term was borrowed from the New England Chamber of Commerce—with the idea being that improved economic conditions should help everyone.
In 1963, we didn't have a Civil Rights Act, Voting Rights Act or Fair Housing law.
This kind of thinking is good poetry but bad policy because it lacks focus.
For example, nationally, the economy seems to be humming along and black unemployment was recently recorded at an all-time low. Certainly, a strong economy should be helping the black community nationally. Not necessarily.
Economists noted that, while the 5.5% black unemployment rate was the lowest since 1972, a significant driver of the low rate involved black people leaving the labor force altogether as the labor-force participation rate dropped from 62.7% in July to 62.2% in August.
In Indianapolis, the black unemployment rate is nearly three times the white unemployment rate.
Yet other "minority" groups enjoy a different relationship with the labor markets.
In fact, from 2005 to 2017, the Latinx community has seen the sharpest decline in unemployment, from 10% to 5%. This occurred while the Latinx poverty rate increased over the same period.
Black unemployment in Indianapolis was as high as 17% and dropped to 14% from 2005 to 2017 while the black poverty rate experienced a slight decrease.
The larger point is that different groups have different stories; we should not expect blanket policies to have the same impact on different communities.
The black community has been a sizable population in this city for much of its early development through the 19th and 20th centuries, while the Latinx community and Asian communities are relatively smaller and newer.
The black community has a distinct history and communal memories, with problems ranging from infant mortality to segregation in education, housing discrimination, employment discrimination and fatal police-action shootings that have produced distinct policy expectations.
The Latinx and Asian communities have their own needs and expectations that policymakers should explore. Lumping us all together into "minority" or "people of color" belittles our distinct histories and experiences in this city.
Being one city can't mean ignoring the distinct groups of people who make the city what it is. We should recognize our differences instead of amalgamating us into a meaningless sameness.•
__________
Wolley is a lecturer, columnist and diversity and inclusion consultant. Send comments to ibjedit@ibj.com.

Click here for more Forefront columns.
Please enable JavaScript to view this content.