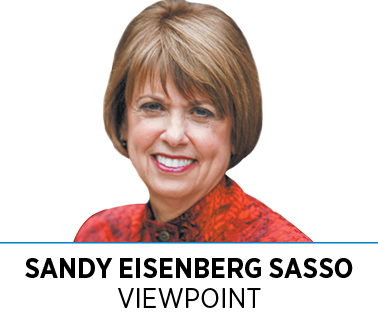 The 100th anniversary of women's suffrage is a time to reflect on its complicated history, even as we commemorate its extraordinary accomplishment.
In 1866, Susan B. Anthony and Elizabeth Cady Stanton established the American Equal Rights Association dedicated to abolition and women's rights. It was daring and courageous. But when Congress passed the 15th Amendment in 1869, giving black men the right to vote, the movement split. Some suffragettes took umbrage at the enfranchisement of black men before women and would not support the amendment.
Stanton rejected Frederick Douglass' claim that the prejudice and violence directed against black men made their enfranchisement even more pressing. Nevertheless, Douglass continued to speak for women's suffrage. Slavery, he claimed, was an "undisguised evil," but women's subjugation was different, "requiring a daring voice … to wake her … and call the nation to account for the rights … of which it was depriving her."
Sadly, not all suffragettes had the same attitude toward the black, immigrant and Jewish populations. Parts of the movement were characterized by overt anti-Semitism and racism.
Stanton's "Women's Bible" denounced the "God of the Hebrews," blaming Judaism for the low status of women. She characterized Jews as notable for "corruption, violence, lust, and petty falsehood."
Stanton's rhetoric was also racist. Initially supporting universal suffrage, she later spoke of former slaves and immigrants whose "pauperism, ignorance, and degradation" might damage the American political system.
Here is the conundrum. The same women whose biases soiled their vision also gifted us with action and words that propelled a movement toward women's equality.
"It was we, the people; not we, the white male citizens; nor yet we, the male citizens; but we, the whole people, who formed the Union. … Men, their rights and nothing more; women, their rights and nothing less."—Susan B. Anthony
Jewish and black women fought for suffrage despite efforts to exclude them. Here are some of their voices:
"Carry out the republican principle of universal suffrage, or strike it from your banners and substitute 'Freedom and Power to one half of society, and Submission and Slavery to the other.'"—Ernestine Rose
"What the woman who labors wants is the right to live, not simply exist … . Help, you women of privilege, give her the ballot to fight with."—Rose Schneiderman
"Always remember, you have within you the strength, the patience, and the passion to reach for the stars to change the world."—Harriet Tubman
"If the first woman God ever made was strong enough to turn the world upside down, these women together ought to be able to turn it right again."—Sojourner Truth
Sojourner Truth continues to inspire: "I will not allow my life's light to be determined by the darkness around me."
We must visit the dark corners of the past, but we mustn't remain there. There's much work to be done: Unequal pay, high rates of maternal and infant mortality, and disproportionally low levels of women in elected office demand our attention.
Our battle to ensure that every citizen votes and every vote counts continues. Gerrymandering, voter ID laws and inaccessible polling places suppress the vote. Additionally, there is the specter of foreign interference. Surely, this 100th anniversary requires us to be bold and audacious. There is yet much more to achieve.•
__________
Sasso is rabbi emerita at Congregation Beth-El Zedeck and director of Religion, Spirituality and the Arts for the IUPUI Arts and Humanities.
Please enable JavaScript to view this content.