Crystal Miller works with big money, responsible for raising and distributing millions of dollars every year.
As president of Indiana University Health Foundation, the philanthropic arm of IU Health, Miller oversees $300 million in net assets and 50 employees. The foundation this month awarded $9.5 million to 14 community organizations, from Gleaners Food Bank of Indiana and the Peace Learning Center to Indiana Latino Institute and Wheeler Mission Ministries.
Miller joined IU Health in 2017 from her native North Carolina.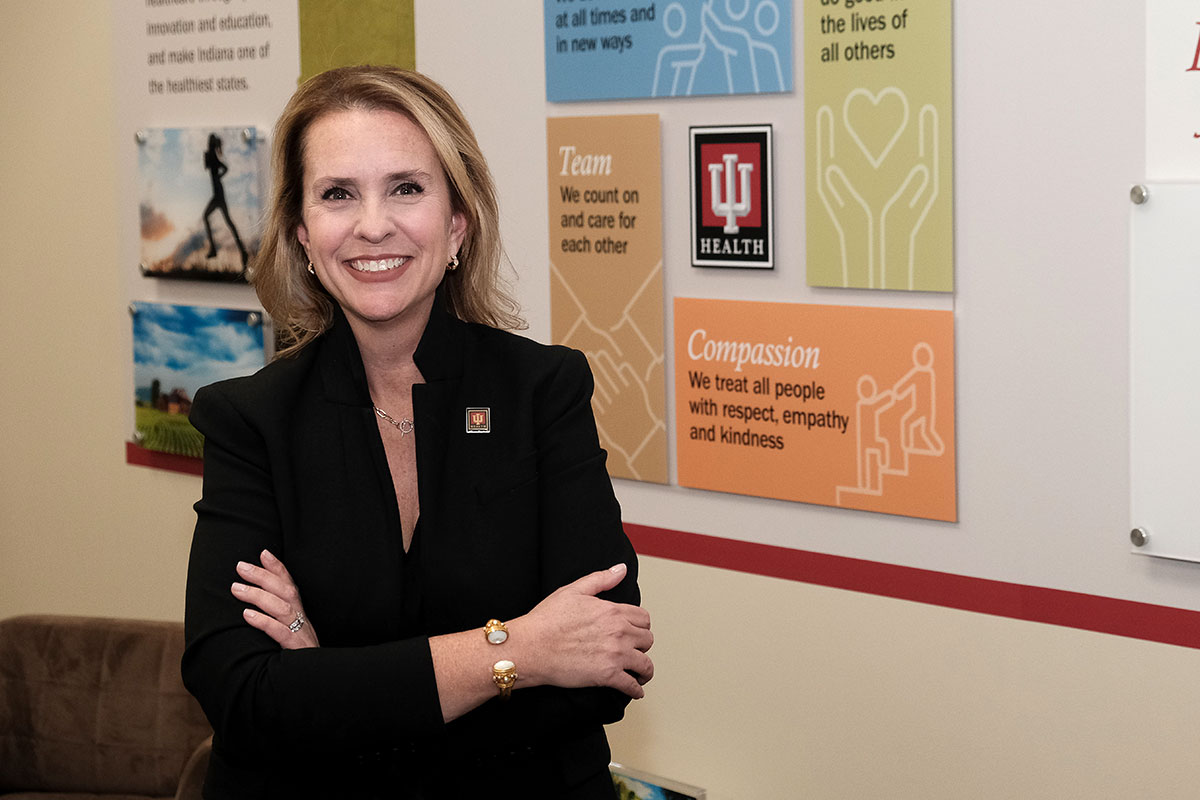 How many requests for grants or donations did you get last year?
For our Community Impact Investment Fund, which was created in 2019, we had close to 50 or 60 applications. We narrowed that down to about a dozen that we awarded to.
What do you look for when you're sorting through all those applications?
We try to set these organizations up for success, knowing that some of them don't have a lot of grant-writing skills. For some of the organizations that we're awarding, this might be the first large grant they've received. And so, we start out with coaching around the grant process. For anybody who's interested, we then have a letter of intent or interest that organizations submit. We then coach them on where we want to see more information. And then we give them an opportunity to come in and verbally present and give us a chance to meet the leaders that are involved in the grants.
Your foundation is fairly new, established in 2017 to consolidate multiple foundations among IU Health's many hospitals. What is your brand message?
For us, being one single foundation allows us to really build relationships with the communities that we are working in. We are solely focused around the IU Health vision of making Indiana a healthier state. And we interpret that as every single Hoosier. And so we really focus our fundraising around what we can do to help people.
One of the big foundations under the IU Health umbrella is the Riley Children's Foundation, a much older organization, founded in the 1920s. Is there any discussion about merging it into your foundation as well?
No. When I was hired to come here, IU Health was really looking at where we had a lot of opportunity with our philanthropy, and our adult hospitals were not raising money on a level that was really on par with the service that was provided by the hospitals to our patients. And so, as an example, from the first year that I was here to last year, we've actually seen a [fivefold] increase in our fundraising around our adult hospitals. And so that was really what I was charged with. It wasn't to look at bringing everyone together, as much as, how do we actually raise money in a better way? And that was really starting with our adult hospitals.
Your big annual fundraiser is called Rev, which features dozens of celebrity chefs. What's your favorite type of food?
I'm from the South. And so, we love to cook comfort food like shrimp and grits, collard greens, that sort of thing. But I actually am a baker. And so, I think more about what kinds of desserts we're going to have.
What's your favorite charity event to go through unrelated to health care?
Since we've moved here, we have loved Zoobilation [a black-tie fundraiser for the Indianapolis Zoo]. And on a personal level, we are very involved with Midwest Academy, a school in Carmel that serves children who have learning differences and learning challenges. And we have really enjoyed attending their gala that they have every year.•
Please enable JavaScript to view this content.