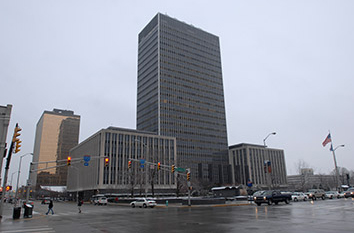 An independent candidate that hopes to take on Democrat Joe Hogsett and Republican Jim Merritt in this fall's Indianapolis mayoral race has filed a federal lawsuit after learning he will not be on the ballot.
John Schmitz, a construction and masonry company owner, filed a suit Tuesday against the Marion County Election Board and Indiana Secretary of State Connie Lawson, pleading for access to the November ballot. The suit was filed in U.S. District Court for the Southern District of Indiana.
The suit also attempts to name Marion County Clerk Myla Eldridge as a defendant, but her name is spelled incorrectly.
According to the suit, Schmitz was required to obtain the signatures of 6,104 eligible voters to be on the ballot, according to the Marion County Election Board.
Schmitz said he submitted more than 8,200 signatures, but that too many were improperly disqualified. He takes issue with the board's decision to disqualify 1,115 of the signatures because the addresses listed for those voters did not match their official registered addresses.
Other plaintiffs in the lawsuit are Marion County residents Anna Svec, Golda Bou and Juan Ramos, Marion County voters who allege their signatures were improperly disallowed.
"Plaintiffs' rights to vote, provide meaningful input to who appears on the ballot, and have their votes counted supersede the technicalities imposed by these statutes in that no one disputes these petitioners are registered voters and reside in Marion County," according to the suit.
Russell Hollis, deputy director of the Marion County Clerk's Office, said the office would not comment on pending litigation, but said the Marion County Board of Voter Registration certified just 5,355 of Schmitz's signatures.
"In particular, [the board] did not certify 1,115 of the signatures submitted by the Schmitz campaign because the address the person listed on the petition did not match the address listed on the person's voter registration record," Hollis told IBJ, as is required in Indiana code. "The [Marion County Election Board] also found that 1,298 signatures were from people who were not registered at all. The remainder of the signatures in question were really not at issue because, even when combined, they would not make up the difference needed to get on the ballot."
Schmitz, who said he is seeking office to fix roads, improve public safety and reduce homelessness, told IBJ he wants to be on the ballot because "I just want a fair chance to talk about the issues with these guys."
"It seems like they did everything they could to disqualify my signatures," Schmitz said. "My experience with the Election Board is that we all make sure someone's vote counts. How hard could it be to put me on the ballot? Then we let the people decide."
Valerie Warycha, deputy chief of staff for Lawson, said the office hadn't yet been served with a lawsuit but that "we don't comment on pending litigation."
Please enable JavaScript to view this content.