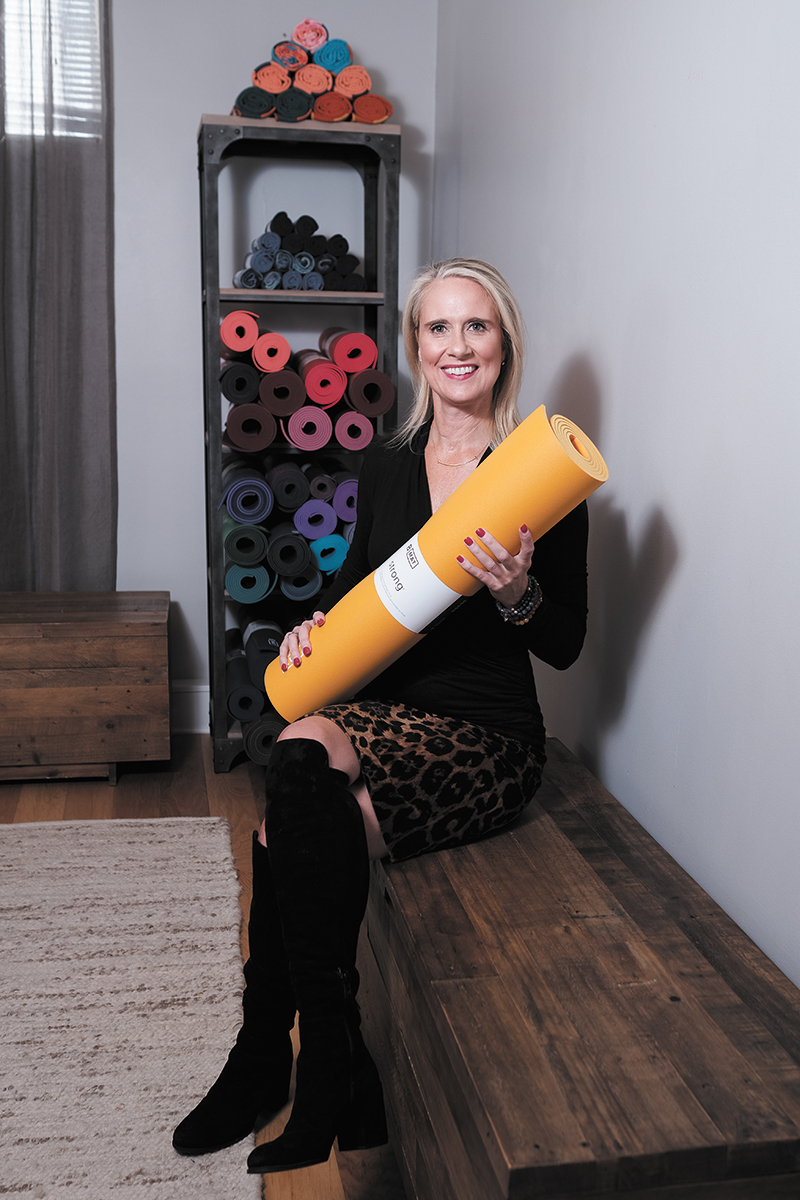 Twelve years ago, Kristine Camron—a successful corporate attorney with a busy practice and a mother to three young sons—was diagnosed with thyroid cancer at age 37. Her life was thrown into chaos as she underwent one surgery and then another after radiation treatment was unsuccessful.
While her battle with cancer was difficult, Camron says, it wasn't nearly as tough as the struggles she's faced this year during the pandemic.
Camron turned to yoga to get her through her trials with cancer and ended up falling in love with it—so much so that she got her teaching license and opened her own studio, Kompose Yoga, in Broad Ripple in 2017. Her studio was growing and providing work to 20 yoga teachers on a contract basis before the pandemic.
Now 49, Camron maintains her law practice as a partner at Ice Miller, where she focuses on mergers, acquisitions and recapitalizations, and she has added life and business coaching to her resume. At the urging of fellow attorneys, she also created and teaches a continuing legal education seminar on yoga, meditation and affirmation.
How did yoga help get you through your struggles with cancer?
A lot of the spiritual teachings in yoga gave me the strength and the positive attitude to continue the process and to be strong and courageous. It really helped me to manage that tough situation. The breathing, the ability to get quiet and still and meditate, taking time for myself—which I had never done before—those skills I got from yoga gave me the peace and quiet I needed to really reflect on what I wanted to be.
How challenging has it been running a yoga studio during the pandemic?
This has been one of the most challenging years I've ever had, much tougher than when I had cancer. The difference is, I knew the path I needed to follow to treat my cancer. With this, I know the diagnosis, but there's no treatment plan. Because I'm classified as a gym, we had to close for 2-1/2 months because of the state and mayor's mandates. That forced us to pivot to a virtual platform, which wasn't ideal. There are a lot of regulations we have to follow now and we can't run at full capacity, and people are in fear. They don't feel comfortable coming into the studio to do yoga, and I completely respect that.
What adjustments have you had to make?
The pandemic has pushed us to think creatively and to find solutions that we probably wouldn't have come up with before. We've moved classes outside. We've been on our rooftop with students. One of our most popular classes is at a blackberry farm in Fortville where we combine picking blackberries with doing yoga.
Are there things you've learned in the pandemic that will be beneficial when it's over?
The upside of pandemic is that I think we are going to have a better business because of the changes we've made. It really allowed us to tap into our relationships with people in the community and think outside of the box. Like the farm—people love the farm. We were drawing 60 or 70 people to those classes, and we're going to do those next year.
Despite how hard it has been, I've grown as a business owner and I've had to step up as a leader for my teachers and my students. I don't think I would have done that without being forced to do it. That has been the rainbow in the storm—that I've been able to grow my business acumen because of the pandemic.•
Please enable JavaScript to view this content.