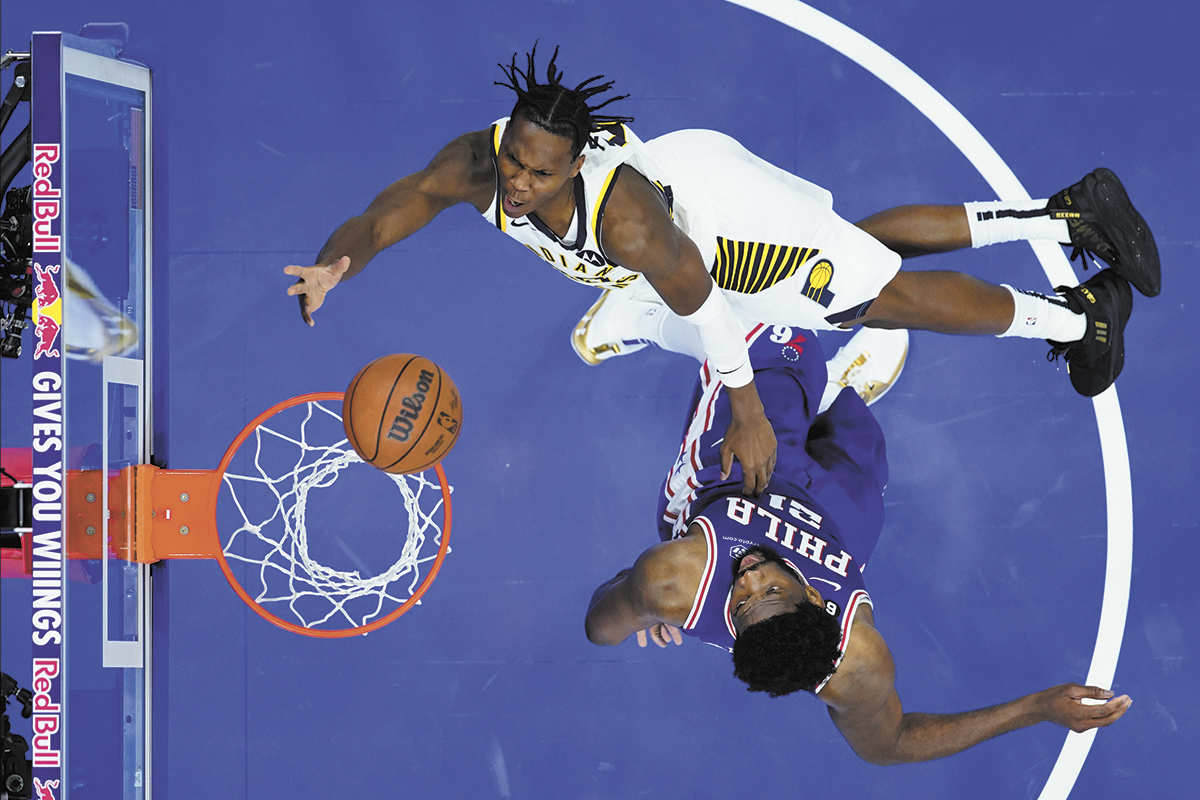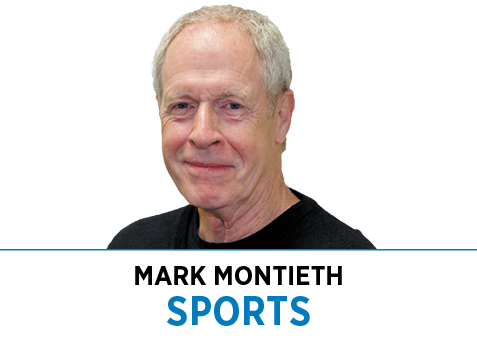 The Indiana Pacers' 56th season is underway, full of intrigue. It's full of promise, too—not for what can happen in the months ahead but for what can happen in the years ahead.
The average age of the core players expected to get consistent playing time is the youngest in franchise history. But that group also is the most athletic.
That combination has captured the interest of fans who had grown frustrated with mediocre or worse teams that appeared stuck in neutral. The Pacers haven't advanced past the first round of the playoffs since 2014. The past two teams, depleted by injuries, failed to even qualify for them.
Nobody expects this team to make the playoffs, either, but the bottom-line incongruity of this season is that fan enthusiasm has never been so high for a team inspiring such low expectations. Many fans, in fact, are hoping for enough losses to return the franchise to the lottery for a third straight time in next June's draft to enhance the possibility of adding another promising young player to go with those already accumulated.
The Pacers have had seasons in which successful teams were constantly criticized for not winning more. Now they have a losing team being constantly forgiven, if not celebrated.
The early returns of the season have provided a summary of what likely lies ahead, namely a lot of impressive individual moments amid team defeats. Clearly, fans are buying what the franchise is selling. Not tickets, necessarily, but hope for better days.
Here's a primer for a season like no other in franchise history.
◗ They are young. So young. And you know what that means: a lot of youthful indiscretion. On the court, anyway. They are by all accounts exceedingly mature off it, but they have already proven their knack for making plenty of mistakes of both the physical and mental varieties.
The average age of the top 13 players is 24.69. That's barely older than the first Pacer team ever assembled in 1967 (24.46) when the franchise was starting from scratch. If not for James Johnson, a 35-year-old forward who will get minimal playing time, the current team would be the youngest in franchise history. The Pacers team that reached the NBA Finals in 2000 had an average age of 29 even with two 19-year-olds (Al Harrington and Jonathan Bender) in the depths of the roster.
They are even younger than their developmental league affiliate, the G-League Fort Wayne Mad Ants, which is composed of players hoping to advance to the NBA. Go figure.
Purdue University quarterback Aiden O'Connell, 24, is older than eight Pacers, all of whom are likely to get significant playing time.
◗ One of those eight, rookie Bennedict Mathurin, is playing beyond his years. The sixth overall pick in this year's draft, he scored more points in his first three games (72) than any NBA player since 1995, when Philadelphia's Jerry Stackhouse scored 76. Stackhouse, though, played 125 total minutes in those games while Mathurin played "only" 86 off the bench.
Some other first-three-games comparisons: The Pacers' Rookie of the Year Chuck Person scored 40 points in 1986. Future Hall of Famer Reggie Miller scored 32 in 1987. Future perennial all-star Paul George scored 20 in 2010.
Michael Jordan, by the way, scored 74 points in his first three games after playing 108 minutes, and LeBron James scored 54 in 122 minutes. Small sample sizes, sure, but it bodes well for Mathurin.
◗ Still, Mathurin looked more like a typical rookie while scoring 17 points in his first road game, at Philadelphia on Monday. He shot poorly, hitting just one of seven three-pointers. Still, he played with confidence and tenacity, giving no hint of backing down. Based on the early returns, he's the most promising rookie the Pacers have had since George McGinnis in 1971. McGinnis, by the way, scored 24 points in a total of 36 minutes in his first three games. He was 21 years old at the time. Mathurin is 20. That's not to say Mathurin will become a Hall of Famer as McGinnis did. But it's not to say he won't, either.
◗ The other primary source of optimism for the Pacers' future is 22-year-old point guard Tyrese Haliburton, acquired in a trade last season. He was the team's leading scorer through the first four games, averaging 24 points and 9.8 assists while shooting better than 50% from the field.
That's a mixed blessing, however. A point guard who leads his team in scoring tends to create chemistry problems. It's not what he's there for. The Pacers have had a point guard lead their scoring in six seasons and finished with a losing record in each one.
The most recent to do so was Malcolm Brogdon, who did so each of the past two seasons. He turned out to be such an awkward fit for the job that Haliburton was acquired and trumpeted as a pass-first point guard. Brogdon, then, was traded to Boston over the summer. It would behoove Haliburton and the Pacers for him to gradually transition to more of a playmaking role as his teammates mature and chemistry is established.
◗ An island amid churning waters, Myles Turner is entering his eighth season with the franchise. That doesn't seem like a lot, but only Reggie Miller (18), Jeff Foster (13), Rik Smits (12), Vern Fleming (11), Austin Croshere (9), Dale Davis (9) and Danny Granger (9) have played in more.
Turner, however, runs the risk of becoming an outdated model at age 26, before he reaches his peak. He's in the last year of his contract, so he'll need to prove he can fit with this young and restless group to stay with the franchise. A trade before the February deadline remains a possibility, if not a likelihood.
Turner's career-defining season hasn't started well. He sprained his ankle in pre-game warmups before the season opener last week. That ranks second on the franchise's all-time list of fluke injuries. George McCloud sprained his ankle while talking on the telephone during the 1992 playoffs.
◗ Appropriate for a team undergoing reconstruction, the Pacers' home, Gainbridge Fieldhouse, is nearing completion of a $360 million renovation. That's about double the price tag of what it cost to build it in the first place, back when it was known as Conseco Fieldhouse. Market Square Arena, which opened in 1974, cost $23 million. The Pacers' original home, the State Fairgrounds Coliseum, cost $1.2 million to construct in 1938. That's barely more than the NBA's minimum player salary today.
◗ Rick Carlisle is the only head coach in Pacers history to have separate stints with the team. He coached from 2003-2007, then returned last season. It's not all that unusual in the NFL for coaches to be hired twice by a team—Ted Marchibroda had that distinction with the Colts—but rare in the NBA. Phil Jackson coached the Lakers twice, although he left voluntarily after the first run, and former Carlisle assistant Mike Brown coached Cleveland twice. It raises the question, if a coach is good enough to be hired a second time, why was he let go in the first place? But sometimes things grow stale, and change is needed.
◗ The Pacers appear headed for a third consecutive losing record, but things have been worse. Much worse. They slogged through their first 13 seasons in the NBA, starting in 1976, with just one winning record. They bottomed out during that stretch with four consecutive seasons in which they won 20 to 26 games. Worms turn, though. They went 14 consecutive seasons, beginning with 1992-1993, with just one losing record, and that was due largely to injuries that kept two starters, Rik Smits and Derrick McKey, out for about 30 games in the 1996-1997 season.
◗ The recent dry spells dropped the Pacers' all-time NBA record below .500, to 1,848-1,856, heading into this season. Their record over nine ABA seasons was 427-317, however, so they maintain an overall winning record in their 55 previous seasons: 2,257-2,173.
◗ No players on the current roster played high school or college ball in Indiana. T.J. McConnell considered transferring to Purdue after deciding to leave Duquesne following his sophomore season but chose Arizona instead. All in all, the Pacers' rosters have included 41 players who attended an Indiana high school or college—but four of those played five games or fewer.
Indiana University is the college most represented on the franchise's all-time roster, with 11 former players. Six former Purdue players have played for the franchise, although one of them, Kyle Macy, transferred to Kentucky after his freshman season. Notre Dame (5), Butler (1), Evansville (1) and IUPUI (1) also have been represented.
Closer to home, 12 Pacers attended Indianapolis high schools: Bobby Joe Edmonds (Attucks), Bill Keller (Washington), George McGinnis (Washington), Marv Winkler (Washington), Mike Price (Tech), Wayne Pack (Washington), Charles Jordan (Shortridge), Bobby Wilson (Shortridge), Randy Wittman (Ben Davis), Andre Owens (Perry Meridian), George Hill (Broad Ripple) and Jeff Teague (Pike).
◗ Thanks to injuries, trades and general upheaval, the Pacers set a franchise record last season with 28 players appearing in at least one game. Three of them played in just one game: Perry, DeJon Jarreau and Ahmad Caver. Gabe York and Nate Hinton appeared in two games. None of those five scored more than two points in a game. It no doubt was a dream come true for each of them—just one they woke up from far too soon.
◗ For stability, you have to turn to the broadcasters. Mark Boyle has handled radio play-by-play since 1988. Chris Denari has made the call on television since 2006. People tend to stay in those jobs for as long as they want if they are qualified and avoid controversy. No other announcers in franchise history have come close to the longevity of those two, and neither plans to stop anytime soon.•
__________
Montieth, an Indianapolis native, is a longtime newspaper reporter and freelance writer. He is the author of three books: "Passion Play: Coach Gene Keady and the Purdue Boilermakers," "Reborn: The Pacers and the Return of Pro Basketball to Indianapolis," and "Extra Innings: My Life in Baseball," with former Indianapolis Indians President Max Schumacher.
Please enable JavaScript to view this content.