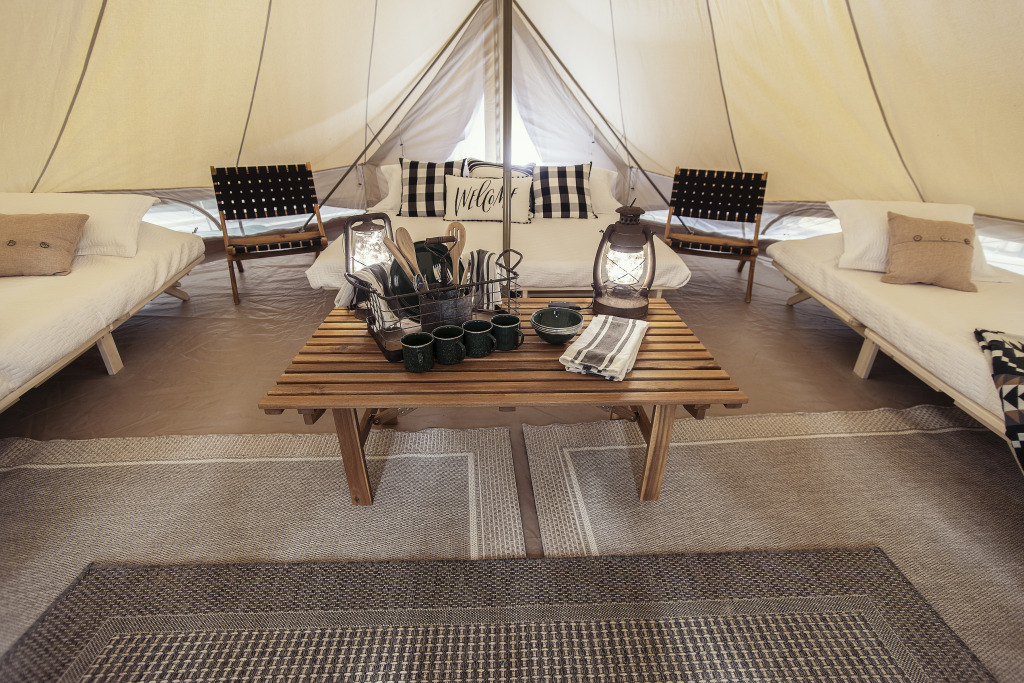 Chris Jackson's "glamping" business took on many forms and nearly disappeared during the pandemic before it found a new, permanent home at WonderTree Farm in Zionsville.
Jackson, now a partner with former Indianapolis Colts punter Hunter Smith in the regenerative agriculture business at 2280 South U.S. 421, is officially opening the Glampgrounds at WonderTree to the public on April 15. He and Smith leased a wooded 40-acre parcel next to the 200-acre farm late last year to give four luxury campsites a test run.
Within a week, the business was at full operational capacity. Jackson is now reinvesting those earnings into the amenities and is using the knowledge he gained along the way to offer families a burden-free escape starting at $179 per night.
"Glamping as its own enterprise on WonderTree's property is the result of what I learned from [his former business] Revival Recreation: how to host guests and getting them to trust us," Jackson said. "We have everything right now that we need to prove that what you're seeing is a minimum viable product at WonderTree Farm."
A former explosive ordnance disposal team leader with the U.S. Air Force, Jackson retired from his duties in 2014 after 12 years of service. Two years later, he earned degrees in leadership psychology and outdoor  recreation while completing Syracuse University's Veteran Entrepreneurship Program at Purdue University.
Jackson launched Revival Recreation in 2019 as an intimate service, one where he would connect with local families over social media and offer to shoulder the burdens of setting up and tearing down a campsite.
"It wasn't streamlined, app-based or software-based," Jackson said. "It was very back-and-forth and very clunky, but the experience was dead-on. We found mothers with kids and fathers that didn't have the time to put together the whole production really relied on us to take care of them."
The outfitter service was popular at pitch nights hosted by Zionsville co-working space zWorks, but Jackson couldn't bring the business to scale.
One year ago, Jackson reimagined the business as Glampfitters—a depot leasing glamping kits to public and private campgrounds so that they could better leverage their primitive sites with retrofitted amenities.
Jackson debuted the kits—which included canvas tents, memory-foam beds, folding chairs, a gas stove, dining room table, portable washing basins, 10 gallons of water, propane, utensils and more—at last year's Indianapolis Boat Sport and Travel Show.
"We built a 1,200-square-foot booth with a full campsite in it, and an interactive screen that showed the options, pictures—everything," Jackson said. "Everything you could say was bohemian-driven. It has a balance of utility and mobility to where we could pack this down pretty small and fit it all on a pallet."
Jackson had $250,000 worth of contracts with state and private campgrounds to be finalized by the end of last March when both he and the economy were hammered by COVID-19.
"Every campground, for fear of what would happen, backed out of those contracts," he said.
Glampfitters was dead in the water, so Jackson sought out work at Smith's WonderTree Farm. The two connected over the farm's land preservation methods. After last year's month-long trial run, they're now planning to show how even luxury outdoor recreation can be done in a responsible manner.
So as not to over-tax or over-burden the land, WonderTree's village of glampsites will rotate to a different one-acre plot of land on the property each year. For every 100 acres they bring into the farm, they expect to grow the number of glampsites by roughly 10.
The business' four sites will soon be open for advance scheduling through the end of the season, on Nov. 15. As for who might choose to join them, Jackson said he's had a lot of practice figuring that out.
"We expect people—we learned this last year—to be families with school-aged kids from within 10 miles of WonderTree Farms," Jackson said. "They want a quick and easy getaway, and we want to make this as easy as possible."
Please enable JavaScript to view this content.