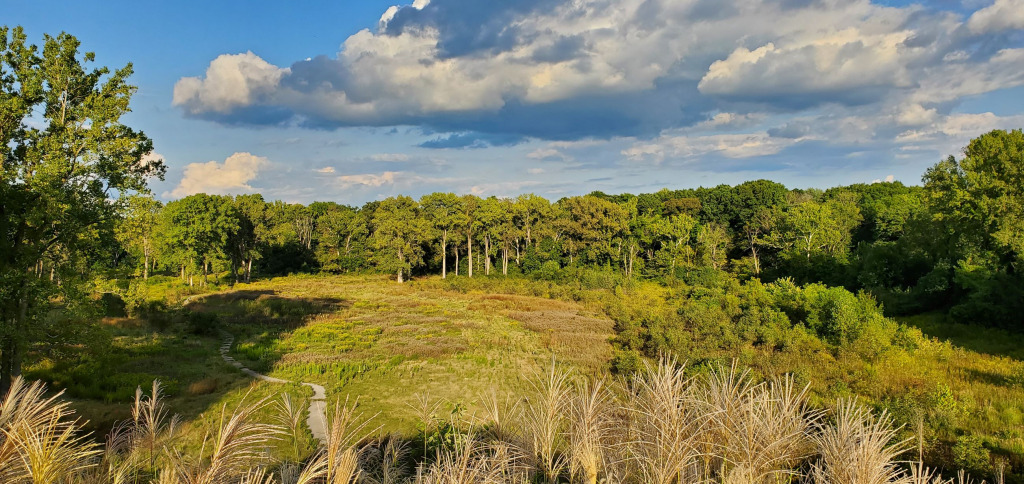 The site of a former golf course in Zionsville is set to become a 215-acre nature preserve that will include trails, a nature center and outdoor classrooms.
The Zionsville Town Council on Monday night voted 6-1 to approve a $5.5 million bond that will allow the town to purchase the former Wolf Run Golf Club and redevelop it into the Carpenter Nature Preserve.
The nature preserve will be located along Eagle Creek on the southwest side of the intersection of U.S. 421 and State Road 32 in Union Township.
"I think that piece of property is going to have huge benefits for not just us, but for our children, our grandchildren and future generations," Zionsville Board of Parks and Recreation President John Stehr told IBJ. "I think it's a beautiful piece of property that's going to become a major asset for Zionsville."
Plans call for the Carpenter Nature Preserve to have enhanced wetlands, woodlands and prairies, along with boardwalks, a nature-inspired playground and Eagle Creek overlooks.
Town officials expect the nature preserve to open in late 2025 or early 2026. It will be the first park in Union Township and the largest nature preserve in Boone County.
"There's nothing like it in Boone County, certainly," said Stehr, who won Zionsville's Republican mayoral primary election on Tuesday. "I don't think there's anything like it in central Indiana."
Wolf Run, which first opened in 1989, was frequently rated as central Indiana's most difficult golf course, according to U.S. Golf Association slope ratings.
When the golf course closed in 2018, course owner Stan Burton filed plans with the town to rezone the land to a planned unit development that would allow 360 single-family homes, 200 multifamily housing units, 50,000 square feet of retail uses and 50,000 square feet of office space.
After those redevelopment plans fell through, Jim and Nancy Carpenter, who founded Wild Birds Unlimited, an Indianapolis-based franchisor of more than 300 retail stores that sell bird feeders and bird food, purchased the land in 2021 and partnered with the town to develop a plan to turn it into a nature preserve.
According to the town, the land is appraised at just more than $6 million, but the Carpenters agreed to sell the property to the town for $4.52 million. The bond will cover the cost of purchasing the property, along with engineering, surveys and construction documents for the first phase of construction.
The Zionsville Parks and Recreation Department has been nominated for a $3 million Next Level Conservation Trust grant that will reimburse the town for acquiring the land, a $500,000 Land and Water Conservation Fund grant for the first phase of development, and $4 million in Indiana Stream and Wetland Mitigation Program credits to fund restoration work along Eagle Creek.
Town Council President Jason Plunkett was the only councilor to vote against the bond. He argued that the town should have used cash to purchase the land, rather than issue a bond.
Please enable JavaScript to view this content.