The owner of Wolf Run Golf Club in Zionsville says he explored many options before deciding to redevelop the property into a residential community.
Stan Burton considered redesigning the nationally esteemed and notoriously challenging course to be more family-friendly, selling it to another owner who would keep it open or making improvements to keep it functioning for at least another year, but in the end those options weren't viable.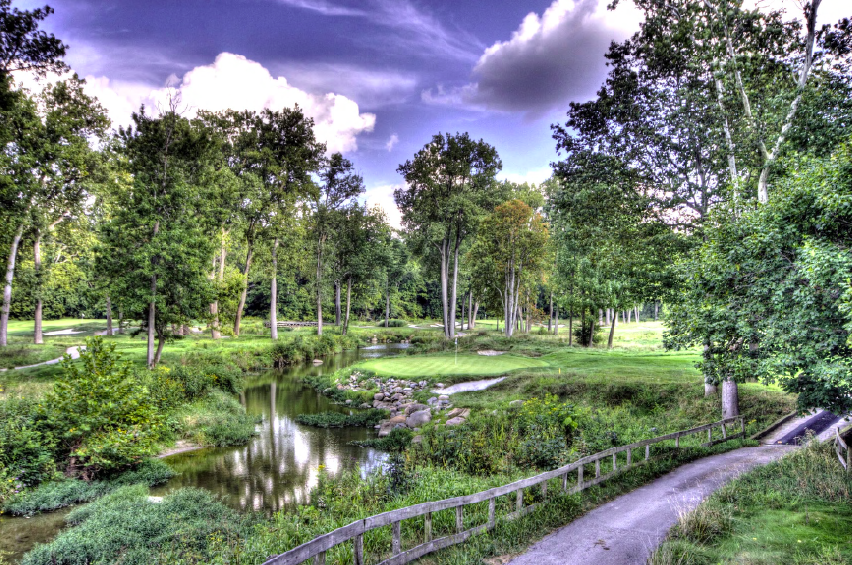 "It's the right time for us to transition into something else," Burton said. "We think we can build something special here."
Burton has filed plans with Zionsville to rezone 235 acres south of State Road 32 between County Road 900 East and U.S. 421 to a planned unit development that would allow 360 single-family homes, 200 multi-family housing units, 50,000 square feet of retail uses and 50,000 square feet of office space.
Burton said even just keeping the 19-year-old golf course open for another season would add an estimated $1.2 million in expenses for fixing the irrigation system that failed at the end of last season.
"We've explored it," Burton said. "The numbers are just stacked against us. … I know it's a great golf course, but at the end of the day, it is a business."
He said recasting the property to become a family-friendly golf course would require an estimated $6 million remodel.
"There's no return on investment there," Burton said.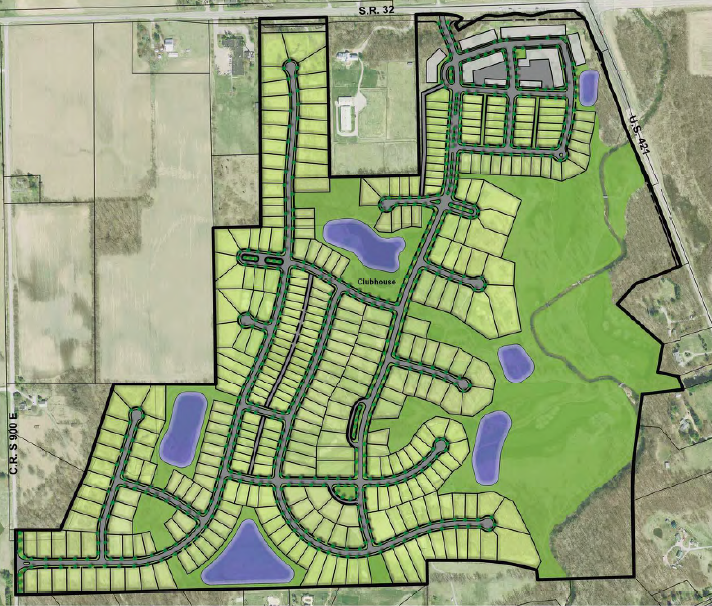 He also explored offers from investors who would keep the golf course open, but the broken irrigation system would turn them away or the amount offered was much too low. He said the rumors that he has been offered "a lot of money for it" are not true.
"No one has brought an offer to me that had a chance of closing," Burton said.
Burton's proposed development would be similar to the Village of West Clay in Carmel, where some retail and office uses are mixed in with housing, but the commercial portion at Wolf Run would be located near the major thoroughfares instead of hidden in the middle of the housing section.
In the commercial buildings, which would be up to three stories tall, Burton expects to see coffee shops and cafes with large sidewalks that would be inviting to pedestrians. Offices and housing would be on the upper levels of those buildings, and some parking would be provided underground.
"We want a neighborhood you don't necessarily have to leave," Burton said.
The homes would be strategically positioned throughout the property to provide picturesque views for as many residents as possible.
"We have an absolutely gorgeous piece of property," Burton said.
Home prices would start around $400,000 and go above $1 million.
Burton is working with Carmel-based Weihe Engineers Inc., Indianapolis-based Weaver Sherman Design and Indianapolis-based Gradison Building Corp. He said most of the home builders in central Indiana have expressed interest in being involved.
Construction could start later this year, pending zoning approval from Zionsville. The project is expected to be discussed at the Zionsville Plan Commission meeting Tuesday and needs to go before the Zionsville Town Council for final approval.
Burton said the cost of the project is still unknown. He estimated that the first residents could take occupancy in late 2019 or 2020. The build-out could take four to six years.
"We want to make sure we build something Zionsville is proud of," Burton said.
Please enable JavaScript to view this content.