Republican presidential hopeful Ted Cruz will campaign next week in Indianapolis, just ahead of the state's May 3 primary.
Cruz will attend the Indiana Republican Party's Spring Dinner at Primo's Banquet and Conference Center on April 21.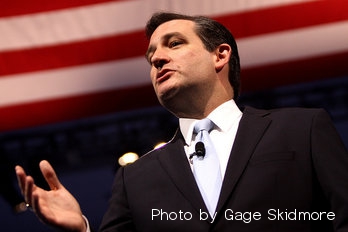 "We have offered invitations to all of the presidential candidates, and we are honored that Sen. Ted Cruz has accepted the invitation," said Indiana Republican Chairman Jeff Cardwell. "This election cycle has put Indiana in a historic spot and we are ready for an exciting year."
Cruz is battling to keep frontrunner Donald Trump from winning a majority of delegates before the Republican National Convention in July in Cleveland. Ohio Gov. John Kasich is also in the race but trails the Trump and Cruz in the delegate count.
Currently, Trump leads with 744 delegates while Cruz has 545 and Kasich has 144. A candidate needs 1,237 delegates to win the nomination outright, without a convention battle. There are 57 Republican delegates at stake in Indiana.
On the Democratic side, Hillary Clinton leads with 1,761 delegates and Sanders has 1,073. A Democrat needs 2,383 to win the nomination. There are 92 Democratic delegates available in Indiana.
Six primaries will take place before Indiana's election. Republican and Democratic candidates are expected to make numerous visits to the state before May 3.
Please enable JavaScript to view this content.