Indiana House Speaker Brian Bosma and U.S. Rep. Todd Rokita both said they will seek to jump into the governor's race if Donald Trump picks Mike Pence to be his running mate.
CNN reported Thursday that the political veterans are already making calls to "key players in Hoosier politics."
Pence, who is currently running for a second term as Indiana governor, is thought to be on the shortlist of candidates the presumptive GOP presidential nominee is considering for the No. 2 slot on the ticket.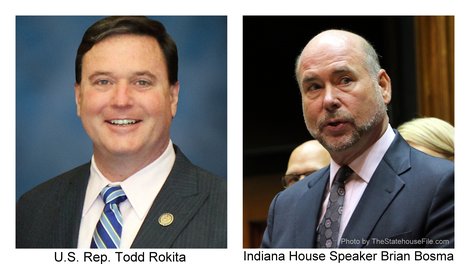 After meeting with Pence and his wife, Trump tweeted, "Spent time with Indiana Governor Mike Pence and family yesterday. Very impressed, great people!"
Pence only has until July 15 to withdraw from the state ballot. The Republican Central Committee would then have 30 days to name a replacement to run against Democratic nominee John Gregg.
And Bosma and Rokita both told CNN that they'd like a shot at the job.
In a story co-written by former Indiana Statehouse reporters Eric Bradner and Tom Lobianco, Bosma said he'd build on the progress made by Pence and former Gov. Mitch Daniels, now the president of Purdue University.
"That would be my goal—to keep that record of accomplishment and improvement not just intact but growing," Bosma told CNN said in a phone interview. 
Bosma, who represents parts of Marion, Hamilton and Hancock counties, has served eight years as speaker of the Indiana House and has been a member of the chamber since 1986.
He is a partner with the law firm of Kroger, Gardis, and Regas, practicing in the areas of local government and environmental law. He was also a founding director of Bosma Industries for the Blind Inc., a not-for-profit that employs more than 85 blind and visually impaired Hoosiers in the region.
Rokita, meanwhile, pointed to three wins in his 4th Congressional District and two statewide wins in the secretary of state's race.
"I believe we can unify Republicans around a campaign that can win in November," Rokita told CNN.
Rokita has served since 2011 in the U.S. House where he is a member of the House Budget Committee and is chairman of the Early Childhood, Elementary, and Secondary Education Subcommittee. 
Evansville Mayor Lloyd Winnecke has also been urged to run and a spokesman said in a statement that the Republican is "giving those requests their due consideration."
Lt. Gov. Eric Holcomb, who was appointed to the post recently when former Lt. Gov. Sue Ellspermann resigned to vie for the job as president of Ivy Tech Community College, would likely be a candidate for the gubernatorial nomination as well.
Please enable JavaScript to view this content.