Carmel Mayor Jim Brainard is considering a run for the 5th Congressional District.
The Republican ballot spot is open now that Rep. Susan Brooks has withdrawn from the race to compete to be the GOP nominee for governor.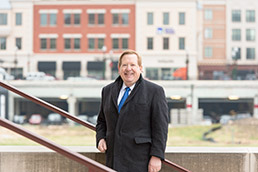 Presumptive Republican presidential candidate Donald Trump announced in a tweet Friday morning that Pence would run as his vice presidential candidate. That has set off a chain of events that could lead to several ballot openings.
Brooks, Lt. Gov. Eric Holcomb and U.S. Rep. Todd Rokita all filed paperwork less than an hour before a noon Friday deadline for action, withdrawing from their current races. All are expected to later file paperwork to seek the GOP nomination for governor, a decision that will be made by the Indiana Republican Party's central committee.
A group of Republican precinct committee members will choose Brooks' replacement in the race for the 5th District, which includes Hamilton, Madison and Tipton counties as well as northern Marion County, western Boone County and parts of Howard and Blackford counties.
Brainard told IBJ on Friday afternoon that he has been focused on his job as mayor of Carmel, but he is thinking about whether to jump into the 5th District race.
"I've been getting dozens of phone calls from people throughout the 5th District who have asked me to consider this," Brainard said.
Brainard is serving his sixth term as mayor of the northern suburb, which is known for its aggressive redevelopment efforts that prompted projects like City Center and the Arts & Design District.
He could jump into the race with no immediate political consequences. He is not on the ballot this year. Therefore, Republican leaders did not pick him to run for congress or if they did but he lost the race, he would remain Carmel's mayor.
Other potential 5th District candidates from Hamilton and Marion counties include state Sens. Mike Delph and Jim Merritt.
Delph declined to comment on whether he would run for the seat, but he is expected to give it a serious look.
Merritt, who is traveling, said he has not yet considered whether to get into the race.
Please enable JavaScript to view this content.