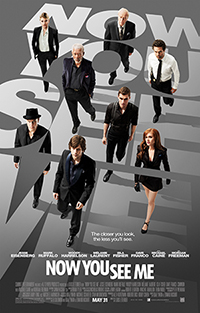 I have a soft-spot for caper movies. Put a bunch of interesting characters in a room plotting the perfect crime. Watch that plot get more complicated than its schemers imagine. Give me a refill on my popcorn.
That's why I'm looking forward to catching "Now You See Me," in which a team of professional illusionists squares off against the FBI. The fact that Mark Ruffalo, Michael Caine and Morgan Freeman are all in it only adds to my anticipation.
More details on the film here.
Want to join me at a pre-release look?
I have tickets to give away for a May 29 screening. All you have to do is name your favorite magician or movie involving magic, below, and I'll pick winners at random until the passes are gone.
(As is always the case, winning a pass does not guarantee admission. Seating is limited to theater capacity.)
Good luck.