Four years of study? Who needs it when you are arguably the most celebrated actress of your generation?
On April 16, Meryl Streep claims an honorary degree from IU. The visit also includes a lecture (sorry but tickets have all already been distributed) and a film retrospective at IU Cinema. Already screened: "The Iron Lady" and "Silkwood." Upcoming: "August: Osage County," "Sophie's Choice," and "A Prairie Home Companion" (the last of which Streep is scheduled to attend).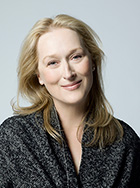 I still remember being knocked out by Streep's first major film performance in "The Deer Hunter" and am looking forward, 36 years later, to seeing her as the witch in "Into the Woods" later this year.
In celebration, I thought I'd look over her filmography and try to find my favorite ten Streep performance. Not an easy task, but one that yielded some surprises for me--including the sheer number of films I've seen her in. Of course, I had to stretch my list to twelve...and even that wasn't easy.
So here, with extreme appreciation, are my my favorite dozen Streep performances.
"A Prairie Home Companion" (not her best film, but she's so good and so right in every second on screen, including the very moving ending, that I couldn't help letting it top the list)
"The Deer Hunter" (indelibly holding her own in a cast that included De Niro, Walken and Cazale)
"Silkwood" (a great actress is as good in the small moments as she is in the big ones)
"The Fantastic Mr. Fox" (okay, not heavy lifting, but vocal acting perfection in its own way)
"Ironweed" (forgotten largely because it's grueling)
"Julie & Julia" (If only this movie were simply "Julia")
"Sophie's Choice" (a wide, wide ranging performance)
"Kramer vs. Kramer" (Hoffman gets all the sympathy, but Streep has to do the difficult work of showing her Kramer's change)
"The Bridges of Madison County" (In a movie that had every right to be pablum, Streep shines)
"Manhattan" (Showing what a young Streep could do with very little screen time)
"A Cry in the Dark" (forget the subsequent dingo jokes, this is amazing work)
"Out of Africa" (Sometimes the toughest roles are ones where you have to compete with nature)
And, no, I've never seen "The French Lieutenant's Woman.
Care to add any? Or name your favorite?