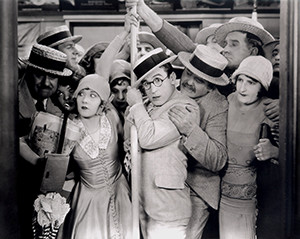 On March 4, the Indianapolis Chamber Orchestra plays along with a screening of the 1928 comedy classic "Speedy" at the Indianapolis Museum of Art.
Starring Harold Lloyd and with a fun cameo by Babe Ruth himself, "Speedy" concerns a Yankee fan who has trouble holding a job, eventually taking a gig driving the last horse-drawn carriage in New York. Shot partly on location, it's a treat--especially with the ICO providing the soundtrack.
If you'd like to join me there (I'll be providing an intro for the film), just email lharry@ibj.com with Speedy in the subject line.
I'll pick one winner at random.
Details on the event here.