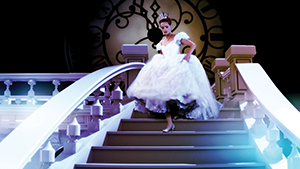 For its recent Broadway run, Rodgers & Hammerstein's "Cinderella" found itself with a brand new script but the same, familiar songs (including "In My Own LIttle Corner" and "Ten Minutes Ago").
The national tour of that production comes to Clowes Hall Nov. 15-20 as part of the Broadway in Indianapolis series and I've got a pair of tickets to give away for opening night.
Just email lharry@ibj.com with Cinderella in the subject line and a description of your favorite pair of shoes in the text.
I'll pick one winner at random. And I promise you'll be home by midnight.