NINGBO, China—Tour the bustling Geely Automobile plant in this port city, and it's easy to feel a tinge of unease about the future of the American autoworker.

It may not be entirely justified, since the privately owned, China-based Geely isn't exactly a titan of the global auto industry. For now at least, Chinese consumers have a far greater allegiance to General Motors, which employs 35,000 in China and now sells more cars in this vast nation than it does in the United States.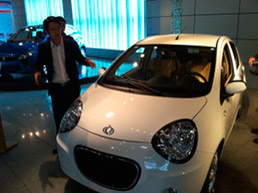 But it's striking how little workers at this Geely factory earn, by U.S. standards at least. Our tour guide said it's 3,000 to 4,000 yuan a month. In U.S. dollars, that works out to roughly $5,500 to $7,300 a year.

That's not bad for China, and it's also true that the cost of living is lower here than in the United States. Still, the gap between what U.S. workers earn and what these workers receive is enormous.

Consider the GM stamping plant just west of downtown Indianapolis that once employed 5,000 but is set to close by the end of June. Last fall, a United Auto Workers local soundly rejected a proposal from Illinois-based JD Norman Industries to keep the factory open but reduce wages. Unskilled workers would have taken a 50-percent cut to $15.50 per hour, or $32,200 a year.

Geely's Nimbo plant employs 3,000, most in their 20s. They work eight hours a day, six days a week producing low-end cars. The cheapest Geely sells for the equivalent of about $7,600.

But don't expect Geely to become a force in the U.S. market anytime soon, said Ben Shobert, an Indianapolis consultant who helps Chinese companies crack the U.S. market.

Shobert said Geely has little in common with the Japanese automakers that began building plants in the United States in the 1980s, reshaping the American auto market in the process. Those firms needed to export to grow. Geely, in contrast, can get plenty of mileage out of China's fast-developing economy, which is bringing hundreds of millions of Chinese into the middle class.

"Geely doesn't need to be in the United States to be successful," said Shobert, who is part of our group of IU professors, Hoosier business people and journalists. "There is just not a compelling business reason to be there. America already has a lot of choices, even on the low end."

Indeed, automakers in China have plenty of reason to be excited about the domestic market. Just 5 percent of the population owns cars, and 80 percent of buyers are purchasing their first vehicle, said David Chen, vice president of public policy and government relation for GM China.

Our group also toured one of two GM Shanghai plants, which together produce about 1 million vehicles a year—many of them Buicks, a brand that has faded in the United States but thrives here. GM's Shanghai workers earn slightly more than the Geely employees but still only a fraction of their American counterparts.