Boone County's first higher education center opened this week.
The 20,000-square-foot Gene Haas Training and Education Center will offer 600-hour training programs for computer numerical control, industrial maintenance and metrology, which is the study of measurements.
Vincennes University will operate the facility, which is located at 321 N. Mount Zion Road in Lebanon. It opened Wednesday.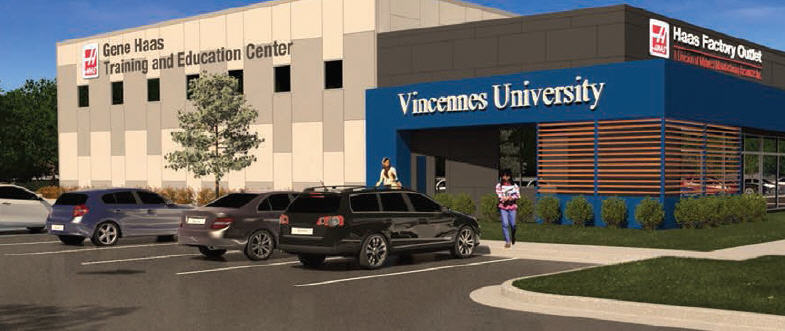 According to data from Vincennes University, the state will need 7,000 new computer numerical control machinists—who use computers to control machine tools—within the next five years.
The Lebanon Redevelopment Authority, which owns the center, approved a $5.5 million bond in 2014 to cover the costs of construction. Lease payments are expected to help pay for the bond.
The Gene Haas Foundation also contributed $1.5 million to help build the center. Gene Haas, founder and president of Oxnard, California-based machine tool builder Haas Automation created the foundation in 1999.
Boone County Economic Development Corporation executive director Molly Whitehead said it's the county's first higher education facility and the only option for manufacturing training in the area. The only similar facility in the state is the Haas Technical Education Center located at the Indiana Center for Applied Technology in Vincennes.
Whitehead said employers will be able to partner with the training center to send staff to the available programs. Subaru Indiana Automotive, Inc. in Lafayette has already enrolled employees and has been renting space in Lebanon while construction on the facility was completed.
"Certainly, I think it's a worthwhile investment," Whitehead said. "We're really excited about it. This really does open up a lot of doors."
She said the new facility will help her market Boone County to outside manufacturing and industrial companies looking to relocate or expand.
"It's being able to over time show we have a pipeline of educated, skilled workers," Whitehead said. "I think it gives us a leg up on our competition."
The center will also offer programs for veterans and is expected to partner with local schools in the future.