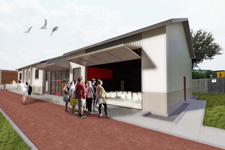 IndyFringe's plans for a 2,100-square-foot theater addition at its home base near Mass Ave will get a boost from Milhaus Development LLC, which is building its Circa project just to the south of the theater group.

Milhaus began construction this month on its latest residential development, a 235-unit project along College Avenue and, at the same time, will lend its expertise to IndyFringe's addition by serving as an in-kind general contractor.

"Because we are doing such a high-volume project just down the street, we have the opportunity to capture significant cost savings on materials and labor for Fringe … and provide oversight on the construction at little to no overhead cost to Fringe," Jake D. Dietrich, a Milhaus project developer, said in a written statement.

In return, IndyFringe will let Milhaus feature one of its properties during the next three years as a lead sponsor of the IndyFringe Festival. This year's event runs Aug. 15 through Aug. 25, and Milhaus' Artistry project at 451 E. Market St. will be featured in festival materials.

IndyFringe last year purchased the property on St. Clair Street where the 65-seat addition and stage will be built next to its 100-seat IndyFringe Basile Theatre, originally a church built in 1927.

Between the two performance spaces will be a central court, named the Trailhead to denote its proximity to the Indianapolis Cultural Trail. It will contain an elevator, ticket office, foyer, restrooms and green room for performers.

The project's architect is Blackline Studio.