A staple of the south side served its last meal Tuesday.

Sisters' Place, known for its homestyle cooking and its wraparound pink awning, closed after 31 years in business.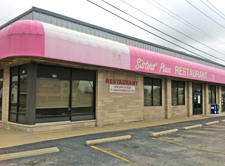 A sign on the door from founder Carole Pope informed patrons that it's time for her to retire.

"My valued employees and [I] have been grateful for your loyalty and support," the sign said. "We would not have survived without you. We will never forget the many friendships formed over the years."

Cassidy Turley retail broker Bill French described the diner as "kind of an eclectic place"--perhaps out of place among the new generation of restaurants. Still, he thinks the location is attractive enough to keep another eatery in business.

Indeed, the space at 215 Terrace Avenue, just off Madison Avenue and south of Interstate 70, won't stay vacant for long. An extensive remodel will be undertaken by a new tenant, also a restaurant, according to the sign.

Sources say Dimitri's Restaurant is moving in. The Greek and Italian eatery formerly operated farther south, at 4902 S. East St., south of Interstate 465.

Pope started Sisters' with sibling Carole Beyers in a former gas station at 2310 Shelby St., near East Raymond Street and Interstate 65. Pope became the sole owner in 1985 and, in 1991, moved the restaurant to its location near Madison Avenue where Miller's Market once stood. In 2005, her daughter, Alicia "Sunshine" Beyers came aboard as assistant manager.

Among the menu favorites were the biscuits and gravy, fried chicken and homemade pies, once baked by the mother of the sisters.