One of the city's biggest car dealers is ready to let the public take a peek under the hood of its latest expansion, as a couple of rivals begin plotting their own growth projects.

Tom Wood Automotive Group will host an open house beginning at 4 p.m. Tuesday at its new, 45,000-square-foot Audi facility at 46100 E. 96th St., about a mile east of the old Audi location.

Tom Wood's Audi and Porsche dealerships previously had shared 27,000 square feet of space. But growing demand for the luxury German car brand prompted Tom Wood to undertake the roughly $8 million expansion.

"The space was just limited, so we needed to expand," said Rod Ingalls, Tom Wood Audi's general manager. "If you sell more than 400 Audis a year, they want you in a stand-alone facility."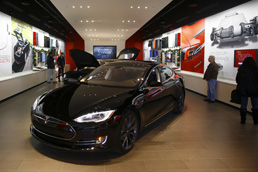 High-end carmaker Tesla, which operates a showroom in the Fashion Mall at Keystone, plans to open a location in the Castleton area. (IBJ file photo)
The Tom Wood Audi facility features 22 service bays, compared with 13 at the old location, and two service lanes to receive customers, in addition to several energy-efficient amenities.

Public tours will be conducted from 4 to 5 p.m., followed by a ribbon-cutting ceremony at 5 p.m., during which Carmel Mayor Jim Brainard is set to speak. A reception will follow from 5:30 to 8:30 p.m. The Bruce Polson Jazz Ensemble will provide entertainment, with catering from Sullivan's Steakhouse.

Meantime, two other dealerships are looking to grow.

Roughly two years after opening its first Indiana showroom—at the Fashion Mall at Keystone—Tesla Motors is expanding to Castleton.

The electric car company is taking the 23,530-square-foot building at 8280 Castleton Corner Drive last occupied by Golf Galaxy near Castleton Square Mall, according to construction filings.

It's unclear whether Tesla will keep its Fashion Mall showroom. Representatives of the California-based car company didn't return phone calls seeking comment.

Also, Andy Mohr has filed plans to construct a 19,750-square-foot building at 8791 E. U.S. 36 in Avon to house a Volkswagen dealership near its Nissan, Toyota and Scion outposts.