A fixture of the Broad Ripple bar scene reopened Wednesday under a new name and look.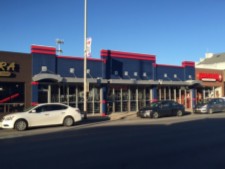 Carey Domres and Dina Randall in August bought Chumley's at 838 Broad Ripple Ave. and continued to operate it under the name until Monday. In the meantime, they embarked on a $100,000 renovation that they unveiled on Wednesday as Village Tap Room.

The hope is that the rebranded bar will appeal to an older, more professional crowd than the typical Broad Ripple college haunt.

"It needs to come back," Domres said of Broad Ripple, "so we're gambling on our concept a little bit."

He's referring to the loss of business Broad Ripple has experienced as a result of the growing popularity of Mass Ave and the up-and-coming Fountain Square neighborhood.

But Domres and Randall, both 53 and of Carmel and the previous owners of D.C.'s Pub in Zionsville, are hopeful that Browning Investments' Coil apartment project under construction along the Central Canal will breathe new life into the area. The 150-unit apartment project will be anchored by a Fresh Thyme grocery.

The couple cut the number of taps at the bar from 50 to a more manageable 24, with a heavy slant toward Indiana craft beers.

A couple of Broad Ripple businesses will have a presence at the Village Tap Room as well. The Garden Table is providing fresh juices for cocktails and Just Pop In's popcorn will be available to snack on.

Chef Jude Dowell of the Citizen Hash food truck will be manning the kitchen on weekend mornings to serve breakfast.

The bar's menu will feature house-made salad dressings and soups, and the popular 50/50 burger made with ground bacon and beef, with special seasoning, has made the jump from D.C.'s.

Live entertainment also will be available on some nights. The tap room already has hosted Celtic and jazz groups.

Children are welcome until 9 p.m.

An official grand opening is slated for Nov. 20, when Scarlet Lane Brewing Co. of McCordsville will host a tap takeover.

Domres and Randall are no strangers to the local bar scene. For three years they operated D.C.'s. The couple sold the business in June to a Buffalo Wild Wings franchisee. The restaurant is slated to open later this month.