ClusterTruck, the food-tech startup launched by ExactTarget co-founder Chris Baggott, is getting closer to rolling out its meal-delivery service.

After raising $2 million in seed funding, Baggott has started renovating ClusterTruck's first home—the former Indiana Pharmacists Alliance building at 729 N. Pennsylvania St. with hopes of starting operations in mid-March. Purchased on Oct. 1 for $550,000, the building will house the service's first kitchen.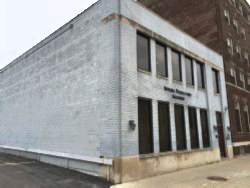 The Internet- and app-based startup will prepare meals from its own menu and plans to deliver them within about 10 minutes of being cooked.

The concept has a heavy hitter in the local culinary scene backing it. Baggott has recruited serial restaurateur Mike Cunningham to oversee foodvoperations.

Baggott recalled how he presented his plan to every chef and restaurant owner he could think of to "shoot holes" in his business plan. One was Cunningham, who was so impressed he agreed to partner with Baggott.

"It was great, actually a godsend, because Mike is arguably one of the best restaurant operators in the Midwest, if not the country," Baggott said via e-mail.

Through Cunningham, ClusterTruck is able to gain significant buying power and access to an existing labor pool and built-in operating systems, Baggott said.

Cunningham is preparing to open Vida on Feb. 2 where Amici's Italian Restaurant formerly operated downtown at 601 E. New York St. In the past six years he has opened Mesh, Bru Burger and Union 50—all on or near Massachusetts Avenue.

"The idea is based on food you might eat from an urban food truck," Cunningham said, "but the reality is, the food isn't coming off a food truck at all."

Tacos, pizza and burgers, for instance, can be ordered using a smartphone app and delivered within 10 minutes. The radius of delivery will be kept "pretty tight" within the downtown location, Cunningham said, until additional kitchens around the city open.

ClusterTruck will hire its own drivers instead of relying on third-party delivery services that Cunningham said struggle with lukewarm food and long wait times.

"They can take 30 to 60 minutes," he said. "You never know how long that food's been sitting around.