ESPN descended on IBJ Media's downtown headquarters for several hours Oct. 15 to talk to Katina Powell, the author of "Breaking Cardinal Rules: Basketball and the Escort Queen," and several others involved in the book.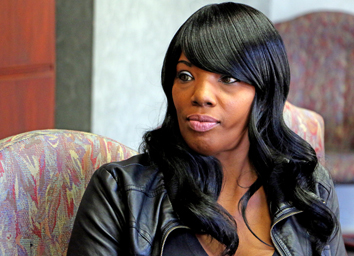 Powell and her story of supplying strippers and prostitutes for University of Louisville basketball players and recruits from 2010-2014 will be the subject of an ESPN Outside the Lines segment on Tuesday.

Former Indianapolis Star investigative reporter and Pulitzer Prize winner Dick Cady, who co-authored the book with Powell, also will be part of Tuesday's Outside the Lines.

Powell also is set to appear Tuesday on ABC's Good Morning America.

Powell's book was published by IBJ Book Publishing LLC, a sister company of Indianapolis Business Journal.

When we sat down Thursday, it had been almost a month since I first met Powell and two weeks since her book came out.

I was eager to catch up with her and ask some of the questions IBJ readers have been asking me.

What's it been like since the book has been published?

It's been a lot of noise. I see my picture in everything. I see my name in everything. It's been kind of crazy.

What's it been like having people doubt your story, basically calling you a liar?

I knew that a lot of people weren't going to believe me and even with proof they're still going to say I'm lying. It's just what people want to believe. It's easy to say I'm lying and go on and sweep it under the rug.

What's it been like for your daughters, and what's it been like for you watching what they've gone through?

That part has been kind of hard, because they have had to deal with social media and people saying different things, their pictures on TV, at work people say different things to them. It's been kind of rough. But my kids are good kids and they're strong and I know this shall pass.

Has the NCAA or the University of Louisville reached out to you in any way [to help with their investigations]?

Not the University of Louisville. I've gotten so many calls and reporters coming to my house, I can't keep up with who all comes. Maybe the NCAA did come and I didn't pay any attention to it. There have been a lot of people come to my house. [Powell's attorney, Larry Wilder, is scheduled to meet with the University of Louisville's general counsel Tuesday at 3 p.m., ESPN is reporting.]

Would you be willing to speak to the NCAA?

Sure.

Would you be willing to show them your journals?

Why would I do that?

To offer additional proof that you're telling the truth.

Honestly, I don't think I have anything I want to prove to the NCAA because when I called the NCAA to talk to them they didn't care anything about me or my story. So for me to feel like I have to prove something to them by showing them my journals and documents and all of that, I don't think I have to do that.

But if they called you … would you be willing to talk to them about the University of Louisville and any recruiting violations that may have occurred?

Sure.

Are the results of the book what you hoped they would be?

Somewhat. Not quite.

Explain that.

Is the question, did I want anyone to get into trouble or did I want this to blow up as big as it did? I don't have any control of that. What I wanted them to do is to look into it and understand this type of thing happens. This is the way most colleges are getting their recruits. As far as anyone getting into trouble, that doesn't play a part with me just yet.

Are you optimistic things will change in terms of college recruitment?

I hope so. I hope this gets people's attention, parents. This is what you get when you look at a college you are potentially thinking about going to.

How have things been between you and your family and friends, and some of the people you mentioned in the book, especially the former owner of Cardinal Kuts, who you were friends with?

The owner of Cardinal Kuts, I have dealt with him for a long time. We have been friends for a while. I know he's kind of upset because it makes it look like he set this up and he made it all come falling down. As far as friends, the people who know me, know me. And they know that me prostituting my kids at 15 is not true. I will always remember Tink (the Cardinal Kuts owner). I will always remember Tink. But what happens, happens.

So all of your daughters were all over the age of 18 before they engaged in any sex with the University of Louisville players or recruits?

Exactly.

Have you heard anything from Andre McGee or his attorney?

No.

If the NCAA wanted to check your cell phone and do some of the things IBJ Book Publishing did, would you be willing to let them do that?

If that's OK with my attorney. I will not let anyone do anything that's not OK with my attorney.

You are talking to ESPN. Are you going to speak to any other media?

At this moment, I'm not sure who I'll be speaking to. Everything goes through my attorney.

You said you wrote the book in part to make money. Has that turned out the way you hoped it would?

Not at all.

How so?

I feel like I gave away a million dollar story. I took down a big institution and I'm still [financially] the same—right back at the beginning where I was.

So it doesn't sound like you made as much as you thought you would off the book.

Not at all.

Are you being paid to do the interview with ESPN?

Not at all.

Are you looking to make money off of interviews?

Hopefully.

Why did you decide to do the ESPN interview?

My attorney thought it would be a good idea. And the way ESPN treated me … they've been so nice to me every step of the way. How could you not want to do an interview for people that nice?

Are you still trying to get your company, Alegend Transportation, off the ground?

Yes.

How is that going?

Right now I'm bombarded with so much stuff, it's hard to focus on one thing. I have so many things surrounding me … but eventually I will get back to Alegend Transportation and it will be a success.

Any thoughts about going back into the escort or stripping business?

No. [IBJ Book Publishing Publisher] Pat [Keiffner] told me I better not [laughter]. Seriously, Pat has helped me so much. Pat keeps me so well grounded. I know I'm not going back to that.