Pulte Homes of Indiana LLC has proposed building 28 new single-family homes along 131st Street just east of the Boone County line in Carmel.
The developer has requested the city rezone approximately 22 acres on the south side of 131st Street west of West Road from the S-1 residential zoning classification to a planned unit development district. The property is adjacent to upscale subdivisions to the north and west and more spacious and bucolic estates to the east and south.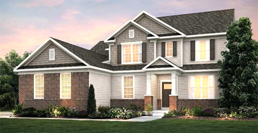 Homes in the Copperleaf subdivision would feature different designs to avoid monotony. Above is a concept rendering of the kind of home that could be built in the project. (Image courtesy city of Carmel)
The subdivision, called Copperleaf, would consist of 29 homes and be developed in a single phase. The land is mostly vacant except for a farmhouse on the north end of the property, which would remain and be the 29th lot in the subdivision.
The proposal was passed on to the Carmel City Council with a favorable recommendation from the Carmel Plan Commission. The city council will consider the rezone Monday.
During a recent public meeting, no one spoke against the project, but several nearby homeowners spoke against the project when it was first proposed, citing concerns about drainage, traffic and lot density.  
Details about how much the homes would cost are not included in public filings. Pulte Vice President of Land Acquisition David Compton told IBJ he would provide more details if the rezone request is approved.
One-story homes in the subdivision would be required to be a minimum of 2,400 square feet, while two-story houses would need to be at least 2,700 square feet. All homes would be required to have a full basement and a three-car attached garage, documents state.
As far as facades, no vinyl or aluminum siding would be allowed, and each front façade would be required to have at least three windows.
The homes would vary in overall design, due to an anti-monotony standard written into the planned unit development.
At least nine of the 22 acres would be required to be open space.
The subdivision would have a density of about 1.30 units per acre, which some plan commission members worried would be too tight.
But Pulte pointed to other subdivisions in Carmel with similar overall density, including nearby Bellewood, which has 54 units on 40.7 acres, and Austin Oaks in Boone County, which counts 270 units on about 192 acres.
Carmel's Department of Community Services found that the proposal fits the city's comprehensive plan and is a good fit next to the surrounding large estate lots and the platted subdivisions, documents state.
Please enable JavaScript to view this content.