North Carolina-based aggregate company Martin Marietta is proposing to construct 23 homes for empty nesters in Noblesville, but first, it wants to mine the soil.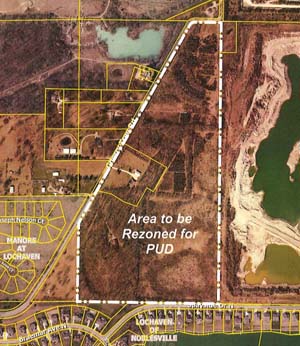 The company, which operates Noblesville Stone and Noblesville Sand and Gravel, has proposed rezoning 60 acres of land east of Cherry Tree Road (see map at right) to a planned unit development district, with an underlying zoning district of R2 residential.
If approved, the PUD would allow Martin Marietta to mine and extract on the site and later develop it into a single-family-home neighborhood aimed at empty nesters. The land is west of the firm's operations at 15100 River Road.
The project was introduced to the Noblesville City Council earlier this month. Tim Ochs, an attorney for Ice Miller representing Martin Marietta, told councilors the land would be mined for no more than 15 years. That time frame could be shorter, depending on demand.
Processing would not be conducted on the site, and truck traffic would not use Cherry Tree Road to access the site, Ochs said.
He said the company, which already owns the land, typically buys real estate for the sole purpose of extracting mineral resources. Recently, the company has started thinking about how the land could be used after that process is complete.
For the land in Noblesville at 15160 and 15194 Cherry Tree Road, the company sees a unique opportunity to develop lakefront property, which is in high demand in Hamilton County, Ochs said.
The 23 homes would be built around a 20-acre lake and would likely sell for $400,000 or more. About half of the land would be dedicated to open space, and the project would include pathways and pickleball courts.
Currently, Martin Marietta has not signed a builder for the site.
Councilor Chris Jensen, who represents the area, expressed concerns during the meeting about approving what he called speculative zoning and wondered why Martin Marietta wouldn't come to the council with its zoning request once it's ready to build.
Ochs said that with the zoning in place, the company would adjust the mining process and how it leaves the property to ensure it's in the best shape to be built on.
"This is a unique opportunity, because when they mine a piece of property, they can do things to it, they can shape it in a matter that isn't possible with an ordinary project," he said.  
The proposal will move to the Noblesville Plan Commission for consideration and amendments before returning to the city council for a final vote. The commission next meets on July 15.
Please enable JavaScript to view this content.