The Witham Pavilion at the Boone County 4-H Fairgrounds in Lebanon is a one-story, multi-purpose building that on any given day might host a livestock show or a wedding.
However, since March 9 the building has been scrubbed and sanitized for use as a medical overflow center to house stable patients in the event facilities in the Witham Health Services network are stressed with victims of COVID-19.
"We've had the duct work cleaned, we've had the furnaces cleaned. We've done a fairly thorough job of cleaning the building," said Jack Jones, facilities manager for Boone County 4-H Inc. "We're still just sitting on hold, hoping it doesn't have to be used."
Lebanon-based Witham has one hospital and two primary and specialty care offices in Boone County, but patients could come to the temporary overflow shelter from any of Witham's eight facilities across the state. MaryBeth Searles, the hospitals' marketing and public relations director, said Witham's facilities currently are nowhere near capacity.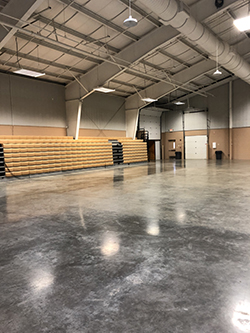 She said the Witham hospital in Lebanon already has made preparations to increase the number of in-hospital beds available for COVID-19 patients. Outpatient beds are available for inpatient care; the geriatric psych unit has been converted into an intensive care unit; and a respiratory fast track has been opened in the ambulance bay.
Right now, the hospital has reserved around 25 beds for patients with COVID-19.
"If we get close to that number (of patients), then we would re-evaluate," Searles said. "If Witham would have to become a COVID-19 hospital we would have 78 beds that could be used. Then, at that time, the overflow would be used for clean patients at the fairgrounds. Until we start feeling a crunch with that, we're not ready to consider moving out to the fairgrounds or anything. It will be our last resort, I know that."
Brett Peppin, director of the Boone County Health Department's environmental health division, said county officials will give a 36-hour notice before the pavilion is activated. He said that's to allow 24 hours for sanitary fogging to take place, then another 12 hours to stage the 15,000-square-foot building with as many as 100 beds.
Jones said there are currently 30 beds sitting on a pallet, but Peppin knows of another 50 cots the county can redirect to the facility. New beds, blankets, pillows and other necessities like water have been donated, and officials are working to secure a caterer that would feed everyone at the 24/7 facility.
Searles said the hospital hasn't determined what criteria it would use to determine which patients would stay in the hospital or would be sent to the overflow facility. In part, that's because officials have also yet to determine whether the Witham Pavilion will act as a step-down facility for coronavirus patients on the rebound, or if it will be a place to shuffle uninfected patients.
"Until they determine what that overflow is for, they can't determine the criteria for it," Searles said.
Peppin said the county's Medical Reserve Corps has been screening Boone County employees and the members of the public as they've gone into the courthouse. If the temporary overflow facility is activated, the Corps will be able to shift 35 workers to the site. The county is in the process of recruiting additional volunteers with—and without—medical experience.
"It's our hope here that we put all of this work in getting ready and we never have to go in and stand up the facility. If needed, we're certainly ready," Peppin said. "This is out of an abundance of preparedness."
Shane Booker, executive director of Emergency Management for Hamilton County, did not respond to questions about Hamilton County's overflow facilities by the IBJ's deadline
Please enable JavaScript to view this content.