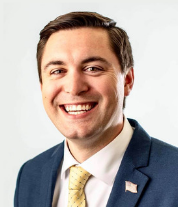 OneZone—the joint chamber of commerce for Carmel and Fishers—has promoted Jack Russell to president, the organization announced Thursday.
Russell, a 29-year-old Cicero resident, joined OneZone as chief operating officer in 2018. He will succeed Mo Merhoff, who had led the organization since its inception in 2015 and the Carmel Chamber for Commerce for 15 years prior that. Merhoff, announced her retirement in March, and Russell filled her position on an interim basis.
After a regional search, the OneZone Board of Directors decided to stick with Russell.
"Jack's commitment, energy and creative ideas for how to support the business communities in Carmel and Fishers set him apart from the other candidates," OneZone Board President Kathy Krusie said in a written statement. "His connections with key stakeholders across central Indiana will provide a solid foundation for our collaborative efforts moving forward."
Prior to joining OneZone, Russell attended Indiana University and served as president of the Westfield Chamber of Commerce for two years. He's also a Cicero Town Council member, a board member for the Indiana Chamber Executive Association and a member of the Hamilton County Workforce Recovery Task Force.
Now, he's looking to guide OneZone's more than 1,300 members through uncertain times. He's said he hopes to take the organization beyond traditional responsibilities to tackle mental health issues, increase affordable housing and improve diversity.
"Those are key components of how chambers will take on a bigger role," Russell said. "The other piece is just being able to support our small businesses while providing resources to large corporations and companies."
Please enable JavaScript to view this content.