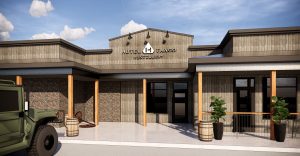 Even though Hotel Tango Distillery is among the many businesses turned upside-down by coronavirus restrictions, the Indianapolis-based company is moving forward with a redevelopment project that will provide a home for its newest location.
Hotel Tango Distillery originally expected to open its third location in Zionsville in May. Now, the planned tasting room and restaurant in the former Pizza King at 10615 Zionsville Road likely won't open until August.
"It's kind of a moving target," Kelsey Strohmeyer, Hotel Tango's brand manager, said of the opening date. "Right now, as far as the decision-making process, we're trying to do everything we can to respect the regulations set by the state government. That is a day-to-day thing."
The Zionsville Board of Zoning Appeals on Wednesday gave early approval to a plan that would allow fewer parking spots at the business than what's typically allowed.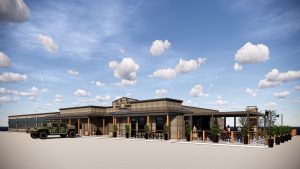 By adding an outdoor seating area with a "smart pergola" for use during all seasons, Hotel Tango's resulting 4,120-square-foot restaurant and  neighboring dog kennel business would typically require 86 parking spaces on the property to meet the town's requirements.
Board members approved Hotel Tango's request to have just 66 parking spaces, but only so long as a second restaurant with competing evening hours does not replace the doggie daycare.
In addition to the pergola, Hotel Tango is planning a new façade and an outdoor seating area with a fireplace as part of the building's renovation.
"It is exciting for us to be able to think about going back to normal," Strohmeyer said.
Hotel Tango is still producing spirits for retail sale at its 1101 E. 16th St. facility, but about a half-dozen bartenders and other staff have shifted to producing hand sanitizer since mid-March.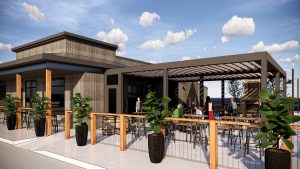 The group has made at least 600 gallons of hand disinfectant already.
After donating the first batch of 2,000 4-ounce bottles to 20 organizations, Hotel Tango started hearing from companies and individuals who wanted to buy the sanitizer because store shelves were bare, Strohmeyer said.
"We're trying to triage those organizations so we have enough to give to the medical and first-responders who are still out there working, as well as the businesses and people willing to come in and pay for it," Strohmeyer said. "We are trying to find the perfect balance."
Please enable JavaScript to view this content.