A doggie day care with three Indianapolis locations is branching into Hamilton County.
Barkefellers, a luxury pet resort, has filed plans to build in Westfield and is in the process of expanding into Columbus, Indiana, where they already have necessary approvals.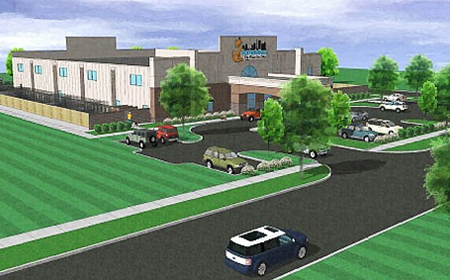 The Westfied Barkefellers would be built near the northwest corner of State Road 32 and Dartown Road. MR3 Development has filed a petition with the city of Westfield to add 9.5 acres of property—currently zoned enclosed industrial—to the existing Dartown Crossing Planned Unit Development. The pet resort would be built on a portion of that land only if the Westfield City Council approves an amendment to the PUD that would allow kennels as a permitted use.
The Westfield Washington Advisory Plan Commission is expected to discuss the proposal Wednesday and could forward a recommendation to the city council then.
Barkefellers would offer pet lodging, doggie daycare, grooming and training services.
Documents don't indicate how large the facility would be, and Westfield officials so far have seen just a conceptual plan for the building. Barkefellers representatives did not return messages seeking comment for this story. The other facilities range in size from about 21,000 to 28,000 square feet.
Barkefellers got its start in 2009 when owners Rick and Christi Coffey decided to open an upscale pet hotel on the south side of Indianapolis, something they thought was missing from the marketplace. Eventually, they opened two more locations—one on the west side and the other on the northeast side. Now, the company offers franchise opportunities. The franchise fee is $70,000 and startup costs are around $1 million, the company's website states.
Westfield residents Travis and Nicole Thompson are the franchisees for the newest Barkefellers. Typically, pets are only outside between the hours of 9 a.m. and 7 p.m., and the facility would have an eight-foot fence surrounding it to mitigate distractions to the animals in an effort to prevent barking.
Barkefellers employs as many as 50 people part-time at each facility.
Please enable JavaScript to view this content.