Indiana-based Olthof Homes plans to build 280 houses in Westfield, where residents have recently complained development is coming too fast and without regard for the pressure placed on public services.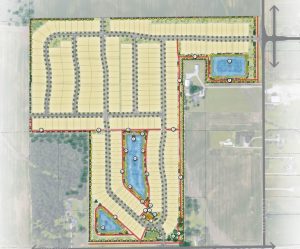 The houses—a mix of single-family and duplexes—would be built north of 193rd Street and west of Six Points Road on roughly 100 acres of undeveloped land.
The site is zoned Ag-SF1 allowing for agricultural uses and low-density single-family houses. Olthof Homes has requested the land be rezoned to a planned unit development, a custom zoning designation that would allow for high-density residential.
There are already subdivisions east and south of the site, while the land immediately north is largely agricultural.
The homes would sell for between $200,000 and $300,000 and full buildout would take between five and seven years, an Olthof Homes representative told the Westfield City Council this week.
The site would be divided into three areas. Areas A and B would be where the single-family houses would be built. Altogether, 186 single-family dwellings ranging in price from $250,000 to $300,000 would be built. They would range in size from 1,400 square feet to 1,900 square feet.
Area C would be reserved for 94 duplexes. The homes there would be one story and would be about 1,300 square feet.
Plans for the neighborhood, called AtWater, include small lakes where residents can fish, a playground, trails and a community firepit.
The proposal is slated to go before the Westfield Advisory Plan Commission for a public hearing Sept. 3. It could return to the city council for a final vote as soon as Oct. 14.
The proposal comes a week after residents packed this month's plan commission meeting to speak against another housing proposal.
The Landings at Village Farms, to be constructed at 146th Street and Oak Ridge Road, would have 94 single-family homes and up to 90,000 square feet of commercial space.
Residents have expressed concerns about the commercial space but also worry about the impact the project would have on schools they claim are already overcrowded, public safety resources and public infrastructure.
At this week's city council meeting, a resident spoke out saying the meeting's agenda speaks to concerns many residents have about "a proliferation of housing developments" and encouraging councilors to be mindful about the developments they're approving. The agenda included two new housing projects—Olthof's AtWater and a townhome project—that were being introduced for the first time.
City officials say they're mindful of the impact new development has on schools and other public resources as they approve new projects.
Please enable JavaScript to view this content.