Noblesville's downtown parking situation is set to change in January.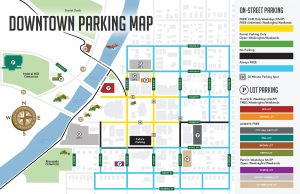 The city council this week unanimously approved a new pilot parking program that is intended to simplify the city's parking ordinance, which has been in effect since 1989, before the Hamilton County Judicial Center was built and Noblesville's population surged.
The parking program will go into effect for one year before it's re-evaluated, coinciding with the expected opening of a public parking garage that is part of the mixed-use project dubbed The Levinson, which is currently under construction.
Downtown parking will be separated into three categories: paid parking lots, free on-street spaces and two consecutive hours of free parking per day along the downtown square and one block away in each direction.
The paid parking lots are the Red Lot, immediately west of Courtney's Kitchen on Logan Street, and the Orange Lot, west of Ninth Street and south of Clinton Street.
The parking lot at Noblesville City Hall, which is currently a paid lot, will become free, unrestricted parking. Other free parking areas include three lots west of the White River. On-street parking one block east, north and south of the courthouse also will be free.
Capping parking to two hours per day around the square will encourage turnover and prevent drivers from moving their cars from space to space every two hours inside the zone, the city said in a news release. It also creates 250-300 spaces of free parking and more unrestricted parking all day.
Two-hour parking will be enforced between 9 a.m. and 5 p.m. Monday through Friday—a change from the previous enforcement time, which was 8 a.m. to 5 p.m.
The city currently caps parking downtown at two hours, but drivers often just move their car to a different space.
The city has also created several spots on Logan, Conner and Ninth streets and Maple Avenue that will be 20-minute spaces for drivers making quick stops.
The Purple lot on Eighth Street and on-street parking on Clinton Street (between Eighth and Ninth streets) will remain permit only.
The new parking rules go into effect Jan. 1.
"When it comes to parking in our historic downtown, there is no magic solution that addresses everyone's needs because each driver and business has different requirements," Noblesville Police Chief Kevin Jowitt said in a prepare statement. "We tried to create a scenario that will benefit the majority of those who depend on parking in downtown."
Please enable JavaScript to view this content.