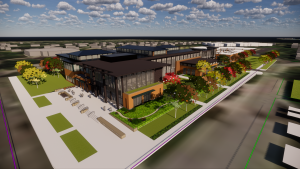 A planned expansion at the Carmel Clay Public Library's main branch is taking shape.
Carmel Clay Public Library Director Bob Swanay is scheduled to deliver an annual report on the library's activities Monday during the City Council meeting, including a recap of The Joyce Winner West Branch's opening in January and renderings of a $40 million main branch revitalization project scheduled to start in the fall.
"It's not a relatively huge expansion, but it's going to be critical to do what we want to achieve," Swanay said. "And, it was good timing to open a branch while we're getting ready for the main location to be under construction."
In response to Carmel's growing population, the Carmel Clay Public Library opened its first satellite location—The Joyce Winner West Branch—at 12770 Horseferry Road in the Village of WestClay on Jan. 6. Rowland Design served as architect on the project and Stenz Construction handled construction.
In its opening month, there were 8,511 visits to the branch with a total 9,606 items in circulation.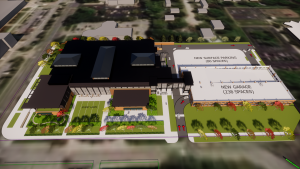 Now, Sway said the library is reimagining the library's main campus to better reflect modern demands.
The library's roughly 116,000-square-foot main branch at 55 4th Avenue S.E. was built in 1999 to service a community of about 45,000 residents. Now, Carmel has grown beyond 90,000 residents and Swanay said visitors are feeling the squeeze.
There were 584,164 visits to the library in 2019, with 72,609 visitors attending at least one of the library's 1,869 programs. The library foundation brought in 17 New York Times best-selling authors to attract nearly 2,000 interested bibliophiles.
Swanay said that's become a problem since the main branch's current program space comfortably fits around 100 people. One author's appearance drew so many attendees that the library had to move the evening's remarks to Carmel High School.
"That's the largest space we have in the library," Swanay said. "We really need not only a bigger space, but more spaces like that."
The library has already issued $3 million in bonds and has approval from the Carmel City Council to issue $26.9 million more. Swanay said the library's cash reserves will make up the difference between any amount bonded and the anticipated $40 million cost of the project.
"We're hoping we won't hit that $29.9 million ceiling," Swanay said. "That's as much as we can bond without effecting the tax rate. We kind of planned our budget around that knowing it would be our self-imposed limit."
Indianapolis-based Ratio Architects is handling design on the main branch and Skillman Corp. is managing construction.
Swanay said the 10,000- to 20,000-square-feet of additional space created by the library's expansion will help accommodate events for up to 400 attendees. The expansion also looks to reprogram the library's existing space so that the current 2,500-square-foot teen area might be five or six times as large.
In addition to a new facade designed with the Carmel Arts and Design District in mind, Swanay said the library's exterior improvements will also be functional.
"Anybody that's a regular user of our library knows that parking gets tight here," Swanay said.
The library's current 250 parking spaces across two lots will be increased to around 420 spots using two surface lots and a two-story garage. Swanay said early designs for the project include a skybridge from that garage to the main library.
Swanay said another important aspect of the expansion is a courtyard that could play host to a number of new programs. Other new features include a drive-up book return, an integrated digital media lab and an enhanced storytime room.
If all goes well, Swanay said construction should take around two years.
"We are looking to see what temporary location options we have," Swanay said. "One way or the other, or intention is to continue library services throughout the construction of the project."
Please enable JavaScript to view this content.