Noblesville Mayor Chris Jensen announced a number of new projects Thursday during his State of the City address, including plans for the city to partner on two major mixed-use developments.
Newly-formed PT17 Development is partnering with the city on a planned 23-unit apartment complex with 8,000 square feet of commercial space near downtown. The $7.7 million redevelopment project, called The Lofts on Tenth, would replace three single-family homes and a business along North 10th Street, between Clinton and Wayne streets.
Meanwhile, on the other side of the White River, Carmel-based developer Old Town Cos. and the city are partnering on a $35 million mixed-used development they're calling The Village at Federal Hill.
Lofts on Tenth
PT17 Development, under the name Xanderco LLC, already owns—or is under contract to own—the Hamilton Tire and Auto Shop and other buildings that currently line 10th Street. Once designs for the project are finalized, PT17 Development plans to demolish those structures in May and start building the two-building complex sometime in June.
"Being from Noblesville—we still live here and work here—we wanted to see a quality project downtown," Darren Peck, co-owner PT17 Development, said. "We're doing this to fill the need for apartments, but we're doing it in a way that's complementary to the neighborhood."
The 31,700-square-foot project should take anywhere from 10 to 13 months to complete, Peck said.
Peck co-owns PT17 Development with his wife, Monica Peck, and Blake Anderson. The Pecks are familiar names in the community: Monica owns Hare Chevrolet and Darren is an owner at Indiana Restoration and Cleaning.
Anderson, a mayoral appointee to the city's plan commission, plans to recuse himself from any votes on the project, Peck said.
Village at Federal Hill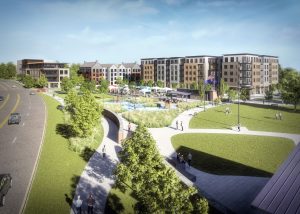 As proposed, The Village at Federal Hill is a multi-phase project with 163 apartments and 36,000 square feet of commercial and retail space on about three acres, west of the Federal Hill Commons Park, near State Road 19 and State Road 32.
The four- to five-story development will be supported by 437 proposed parking stalls across a combination of surface, on-street and structured garage spaces.
Emily Gaylord, communications director for Noblesville, said the city and Old Town own most of the property targeted for development. She said Old Town is in negotiations, however, with the owner of the current Wendy's property at 230 W. Conner St.
According to Hamilton County property records, that land is owned by Cole WY Portfolio IN II LLC.
Gaylord said the city plans to help Wendy's relocate to an undermined location.
Representatives from Old Town Cos. did not immediately respond to requests for comment.
Gaylord said both projects announced by Jensen at Thursday's address will be reviewed by the City Council. She said it's likely the council will also consider supporting the projects with yet-to-be-determined financial or other incentives.
Please enable JavaScript to view this content.