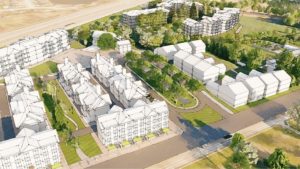 Carmel-based developer Old Town Cos. is seeking approval for a nearly 28-acre real estate project that would bring townhomes, apartments, retail and office space to a prominent intersection in Carmel.
The developer is eyeing land on the north side of Smokey Row Road, between the Monon Greenway and Meridian Street (U.S. 31), for the project. The land is currently home to roughly a dozen single-family homes.
In addition to requesting that small portions of the site be rezoned to match the urban residential zoning district that governs much of the land, the developer has also requested primary plat approval from the Carmel Plan Commission, which next meets Oct. 15.
Old Town plans five commercial/office buildings that would range from 2,000 to 8,000 square feet, site plans show. Plans call for up to 240 apartments, 46 townhomes, 30 condominiums and 10 single-family homes.
Documents do not indicate how much the project would cost, and Old Town CEO Justin Moffett did not immediately respond to messages from IBJ seeking comment.
Old Town's plans include preserving a historic home on the site and renovating it into a farm-to-table restaurant. One acre of land would be dedicated to an urban farm. The historic home, called the Maples, was built on the site in the 1840s. Four generations of the Urich family have lived there.
The rest of the existing homes would be demolished. Old Town has already acquired some of those properties.
Plans also call for an amenity center that would include a pool, clubhouse and gym facilities.
Last month, the Carmel City Council approved a resolution that added the site to the existing Old Town Economic Development Area, which would allow the city to invest tax increment financing funds into the property.
It's unclear what specifically the city's redevelopment commission would use the TIF dollars to fund. CRC Executive Director Henry Mestetsky declined to comment, but city documents indicate up to $7.3 million could be invested in infrastructure improvements.
Those improvements may include improvements to Smokey Row Road, an extension of and upgrades to Rohrer Road, plus construction of a roundabout at the intersection of Smokey Row Road and Rohrer Road.
"Based on the representations by the developer of the mixed use project, the commission has determined that the development of (the) Smokey & Monon Allocation Area will not proceed as planned without the contribution of tax increment revenues … ," the resolution expanding the TIF district states.
Please enable JavaScript to view this content.