A Noblesville catering company that's accustomed to operating in an unusual space is taking its business on the road with an eye-catching conveyance.
It's not a food truck. It's a food trolley.
Michael and Stacey Spencer launched The Urban Artisan last November in the Veterans of Foreign Wars' commercial kitchen at 654 S. 9th St. in Noblesville. Still averse to the overhead costs of a traditional restaurant, the husband-and-wife team is expanding the business by transforming a 1985 motorized trolley into a kitchen on wheels.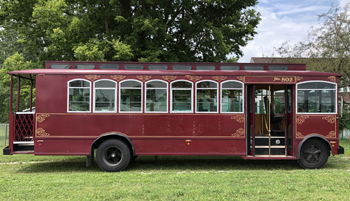 "Brick and mortar, that's just not where it's at anymore—not for us," Michael Spencer said. "We wanted something that would really make us stand out, beyond our food. As soon as we found the trolley, we knew that was it."
Spencer, an auxiliary member of the VFW, said he struck up a partnership with the organization last year when he heard it was having a hard time keeping its kitchen staffed. Having spent years in the health care field, Spencer said he decided build up a new business while supporting the organization by paying rent for the kitchen space and offering discounted food.
The catering side of the business will continue to use the kitchen and serve corporate lunches in Hamilton County and surrounding areas. The Urban Artisan also offers carry-out and delivery through a third-parties for smaller orders.
Since buying the trolley from an online seller in Peru, Indiana, Spencer has worked to tear out its cast iron and wooden bench seats. Spencer said he'll leave the trolley's brass handrails and oak fixtures, but the rest of the interior will be built-out with stainless steel fridges, a cooler and tables.
Spencer said neither he nor the previous owner know much about the specialty vehicle's origins. He knows the trolley sits on a GMC chassis and runs off an Allison engine. And there was a logo for a transport company called "American Star" on the side, but that's about it.
Rather than adapt a former FedEx delivery truck or trailer, Spencer said he's confident the trolley's unique appearance will stand out at events to catch customers' eyes.
"It just has that magnetic ability," Spencer said. "If we do this right, we'll have people coming to us and it will be our job to sell to them."
When the trolley's transformation is complete and it's rolled out this spring, Spencer plans to four hire new workers and add French crepes to the Artisan's offerings.
In addition to crepes, the trolley will feature The Urban Artisan's five best-selling sandwiches: a Philly cheesesteak; an Italian beef sandwich; the Porky Pig, a barbecue sandwich with sweet mango and sweet chili sauces; the Three Big Pigs, with ham, pulled pork, bacon and a bacon marmalade; and the Dutch Crunch, with turkey, ham, bacon, lettuce, tomato and mayonnaise.
Spencer said The Urban Artisan will apply for year-round food-truck permits in Hamilton and Marion counties, as well as temporary permits for events in Madison and Hendricks counties.
If all goes well, Spencer said he's hoping to franchise the operation. That might be a challenge, though, since Spencer knows he got lucky the first time. He anticipates the whole project, including the cost of the trolley and its conversion, will cost him around $20,000.
"If we tried to do this again, we would never be able to duplicate what we're doing now for the same amount of money," Spencer said.
Please enable JavaScript to view this content.