West Fork Whiskey Co. announced Wednesday its plans to open a 35,000-square-foot agritourism facility next summer just north of the Grand Park Sports Campus in Westfield.
Blake Jones, one of the Indianapolis-based craft whiskey distillery's three co-founders, said the more than $10 million project has been in the works since West Fork launched in 2015. If approved, the project could bring a restaurant and cocktail lounge, event center, speakeasy, production and aging space to a 13-acre parcel at the northeast corner of Horton Road and East 191st Street.
"We want people to experience distilling and all of its components, so they can get a firsthand view as to what it's like to distill without having to travel to Kentucky or Tennessee," Jones said.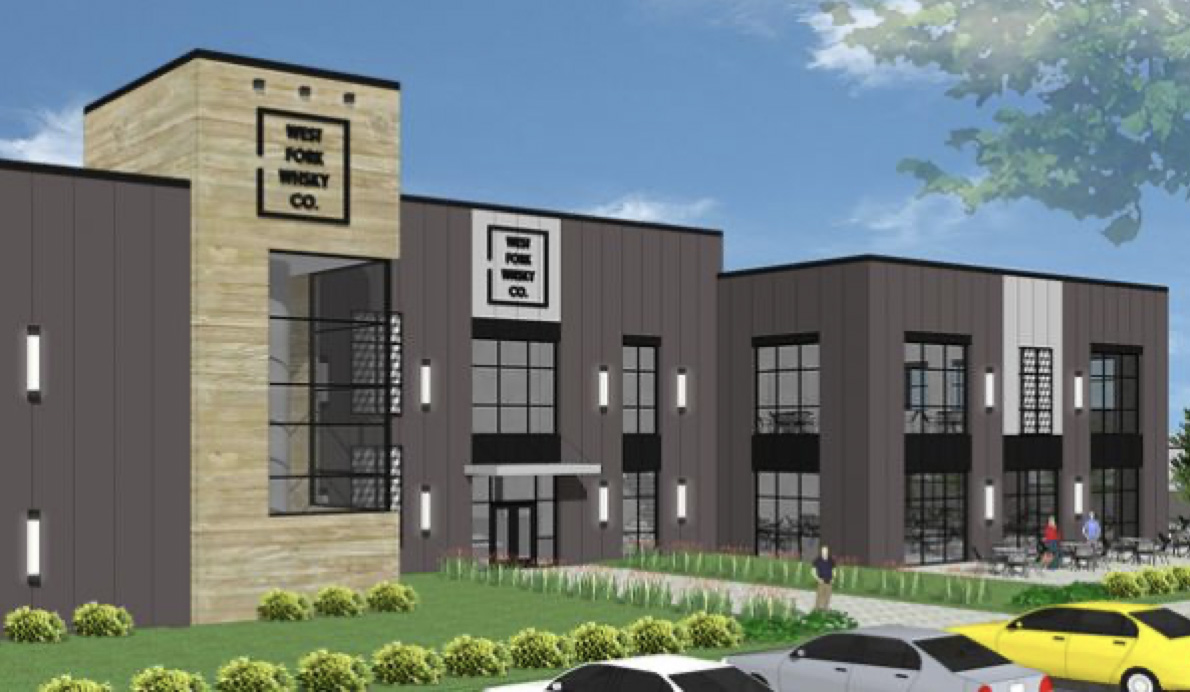 Currently, West Fork operates a 3,000-square-foot production facility and tasting room just north of downtown Indianapolis at 1660 Bellefontaine St. near the Monon Trail. Nearby, the company also rents roughly 12,000-square-feet of warehouse space for its storage and aging operations.
Though West Fork's Indianapolis operations only produce a couple barrels of whiskey each day, Jones said the new facility would add 20 barrels to its daily output, which would make West Fork one of the largest craft whiskey distilleries in the country.
Roughly one-third of the new facility will be dedicated to production and storage space, opening the door to new long-term aging projects and a potential expansion of West Fork's canned cocktail line.
The facility would add 50 to 75 people to West Fork's staff of 10, so the Indiana Economic Development Corp. is offering the company up to $450,000 in tax credits contingent upon it hitting its hiring goals.
The Westfield City Council is planning to consider additional incentives, including real and personal property tax abatements.
Jones said the family-friendly restaurant would span roughly 4,000 square feet, including outdoor patios, enough to accommodate more than 200 guests. There's a planned 5,000-square-foot event center and a more-intimate speakeasy with room for 35 people.
"We'll accommodate not just a family-friendly portion with the restaurant, retail and patios; we'll also be doing tours and education," Jones said.
The educational components may include overviews and tours of mashing and fermentation, distillation, aging, processing, tasting and even cultivation of heirloom corn grown on-site.
Those amenities aren't the end of the story, though.
Jones said there's a potential second phase that could double the facility's footprint. He declined to give specifics but said the next phase might build upon the first's outdoor amenities, tours and production space.
"We envision ourselves growing this company at this location for years and years to come," Jones said.
South Bend-based Holladay Properties is the real estate developer for the project, which is in part financed through Carmel-based Merchants Bank of Indiana.
The project is scheduled for review by Westfield's Advisory Plan Commission on Sept. 8, and its plan could be adopted by the city council as soon as Oct. 12.
Please enable JavaScript to view this content.