Foodies won't have to wait too much longer to check out two new restaurants operated by Kimbal Musk's Kitchen Restaurant Group—Hedge Row and Next Door.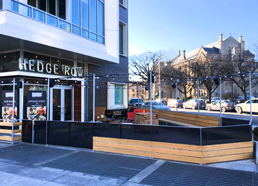 Hedge Row, located at 350 Massachusetts Ave. (see photo at right), is slated to open on April 3. Its website describes the establishment as a "relaxed American bistro" that features dishes cooked in a wood-fired oven and focusing on locally sourced "real food."
For example, choices include wood-roasted pork chops with pears, grits and arugula; vegetable side items such as charred broccolini; house-made ice cream; a children's menu; and a daily happy hour. Dinner entrée prices range from $18 to $38.
The establishment will offer indoor seating for 128, with patio seating for an additional 62. It will open daily at 11 a.m. and serve lunch and dinner, with weekend brunch service beginning May 12. 
Hedge Row was originally set to open in August 2017. But it ran into some permitting and construction-related delays that pushed back its opening date, Kitchen Restaurant Group spokeswoman Courtney Walsh told IBJ this week.
This will be the second location for Hedge Row, which also has a Denver eatery. The restaurant is part of the Kitchen Restaurant Group, which Musk—the brother of Tesla Motors founder Elon Musk—co-founded with Hugo Matheson in 2004.
The company also operates two other restaurant concepts, Next Door and The Kitchen. A Next Door location is set to open on May 1 in the former Double 8 Foods store at the southeast corner of 46th Street and College Avenue.
In other retail/restaurant news, here are some other openings to watch for:
—City Electric Supply, a Dallas-based electrical wholesale distributor, has entered the Indianapolis market with two stores.
A north-side location, at 5933 W. 71st St., is managed by Mark Fisher; and an east-side location, at 8801 Boehning Lane, is managed by Roger Sheppard. Both locations opened in mid-January. 
"Indianapolis is booming with development but there aren't many distributors that focus on small contractors like we do," District Manager Doug Hornback said in a press release. "I am thrilled to have the opportunity to serve this area."
City Electric Supply, established in 1983, is a family-owned electrical wholesale distributor with more than 462 stores around the U.S. It primarily focuses on residential, commercial and industrial electrical contractors. 
Looking ahead, the company says it has plans to open 10 to 15 locations across Indiana.
—Aldi's store at 4470 Lafayette Road, which temporarily closed for renovations early last month, will reopen on March 22. 
The revamped store will open its doors at 8:25 a.m. and give Aldi gift cards in varying amounts to the first 100 customers.
It's part of the low-priced grocery chain's project to renovate all of its 22 Indianapolis-market stores by the end of 2020—a $30 million investment for the company. 
The Lafayette Road store marks Aldi's 13th local remodeling. Still on the list for upgrades are two remaining Indianapolis stores at 6691 E. Washington St. and 3859 W. Washington St.; a Greenwood location at 1595 U.S. 31 South; two stores in Muncie; and one location each in Shelbyville, Greensburg, Logansport and Frankfort.
—A couple of eateries have joined the lineup in Whitestown with official openings this week. 
McAlister's Deli had its grand opening Monday at 6161 S. Main St. The franchisee for this store is Franklin, Tennessee-based Southern Rock Restaurants LLC, which operates 24 McAlister's locations around the state and 73 total.
And a Fundae's Ice Cream & Sweets also had its opening day Monday. The establishment, located at 7157 E. Whitestown Parkway, is owned by husband-and-wife team Donny and Kas Miller. 
Please enable JavaScript to view this content.