It's nothing to look at now, but the vacant building that formerly housed Big Al's Superstore at the northeast corner of 46th Street and College Avenue is about to get a big-time makeover.
When renovations are complete—likely within the next few months—it will have three or four tenants, including Scarlet Lane Brewing Co. LLC, which plans to open a taproom in a portion of the space.
"We're going to do a tremendous amount of work to the building," said Michael Boaz, who is part of a new partnership that is buying the building from DCG Realty LLC. Among Boaz' partners is Colleen Fanning, who is a member of the Indianapolis City-County Council and the new executive director of the Broad Ripple Village Association. Fanning said she hasn't played an active role in the project and her ownership interest is minor.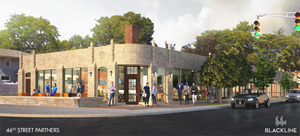 Boaz said he's waiting on some final permits and approvals from city officials. Once those are secured, he said, construction crews will start work on the site within the next few weeks. Workers will install a new interior structure, new water/sewer service and a new roof. (Click on image at right for larger view of the project rendering.)
The building has about 7,000 square feet of space at ground level, plus a lower level with an additional 2,700 square feet. 
Nick Servies, Scarlet Lane's chief branding officer, said the taproom will occupy about 1,600 square feet in the building and will offer between 15 and 24 different beers at any given time, representing a mix of Scarlet Lane brews and "guest beers" from other local and regional brewers.
 "It'll be kind of a comfortable hangout spot," Servies said.
This will be the second location for Scarlet Lane, which launched in May 2014 in the Hancock County town of McCordsville. Servies' wife, Eilise Lane, is the company's head brewer and CEO.
Having the second location will offer several advantages, Servies said.
Scarlet Lane will have a two-way liquor permit at the taproom, he said, which will allow it to sell beers from both its own brewery and others'. The McCordsville brewery operates under a small breweries permit that only allows it to sell its own products.
The 46th/College corner also gives Scarlet Lane access to a denser population base than is found in McCordsville—and it's in the same neighborhood where Servies, Lane and nearly all of Scarlet Lane's  employees live. 
Servies said the taproom could open this summer or fall, but the timing depends on how quickly work happens on the building.
Boaz said the building could house a total of three or four tenants. The tenants, he said, will likely be a mix of retail shops and restaurants. He said he's in negotiations with several potential tenants whom he declined to identify because the deals aren't yet final.
The intersection is ripe for commercial activity, Boaz said. "I'm a believer. We just see that corner becoming a vibrant corner again."
On the southeast corner of that intersection, the Kimbal Musk eatery Next Door is set to open May 1. That restaurant is in the old Double 8 Foods store, which has undergone heavy renovations.
On a related note:
Husband-and-wife team of Andrew and Whitney Klein, who live in Fishers, are planning to open Trax BBQ in a portion of the McCordsville building that also houses Scarlet Lane.
Andrew Klein has 20 years of restaurant experience, including at Kona Grill and Fleming's Steak House. He launched a catering company, No Coast Catering, last year.
"Last summer we started selling BBQ once a week at the [Scarlet Lane] brewery and business has blown up," Whitney Klein told IBJ in an e-mail this week. Until the restaurant is open, she said, Trax will continue to sell its barbecue on a "pop-up" basis at the brewery every Friday.
No official word yet on when Trax will open.
 
Please enable JavaScript to view this content.