Circle Centre mall is planning to spiff up its exterior entrances with new signage, facades, canopies and lighting.
The upgrades, which are slated to begin this summer, are part of the 23-year-old mall's previously announced plan to make a number of improvements to the property. The mall has declined to say how much the total effort will cost, describing it only as a "multi-million-dollar renovation"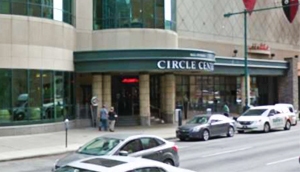 "The work on the façade is one of the first steps in the phases of the renovation that was outlined during our announcement in February," Circle Centre General Manager Nick Strause told IBJ in an e-mail.
The mall entrance on Georgia Street and the two entrances at the corner of Washington and Illinois streets will receive upgrades (see before and after images at right), as will a South Meridian Street entrance to the Indianapolis Star's offices. 
Upgrades will include new signs and lighting at all four entrances along with new facades of aluminum, glass and granite, among other improvements.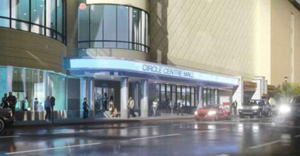 The Indianapolis Historic Preservation Commission must approve the plans before work can begin. Once that happens, Strause said, façade work will begin this summer. 
"The Washington Street entrance work will end this fall, while other facade work will go into 2019," Strause said. 
Other mall improvements, Strause said, will include remodeled restrooms, new lighting and way-finding signs in the mall and adjacent garages, new flooring at mall entrances and the South Rotunda corridor, a "modernization" of the glass elevators on the north end of the property; a new color scheme, new soft seating areas and improved wi-fi connectivity.
The improvements come as Circle Centre is dealing with a rash of recent tenant departures. The mall's sole anchor, Carson's, closed in April, and more than a dozen of the mall's small and large tenants have left within the past several years. Access to the mall via the old Washington Street entrance to Carson's has been restored.
In other news:
— Indianapolis-based Crew Carwash is preparing to test-drive something new: a cleaning service for vehicle interiors. This week Crew announced it is building its first Xpress Interior Clean facility at its Hamilton Town Center location at 13425 Tegler Drive in Noblesville. Housed in a separate building from the exterior wash facility, the interior cleaning site will move cars on a conveyor belt while employees speed-clean the interior in eight minutes, Crew says.
The Noblesville facility is set to open late this fall. "Once the test is proven successful, the company plans to strategically add the service to existing and new locations as growth continues," Crew said in a prepared statement. Crew has 31 locations around the state, about two-thirds of which are in the Indianapolis area. 
— Louisville-based Joella's Hot Chicken is working to open its second Indianapolis restaurant, this one at 1072 Broad Ripple Ave. in the long-vacant space that formerly housed Applebee's. Joella's specializes in hot chicken—fried chicken seasoned with spice blends whose heat levels range from "Traditional Southern" to "Fire-in da-Hole."
The chain, which is owned by EAP Restaurant Concepts, opened its first location in July 2015. It now has four restaurants in Kentucky, one in Indianapolis at 4715 E. 96th St., and one coming soon in Cincinnati. Real estate broker Steve Delaney of CBRE, who was involved with leasing the Broad Ripple site to Joella's, estimated that the location should be up and running by the end of the year. 
— Enterprise Rent-A-Car has opened its newest Indianapolis rental facility in an unusual location—the top level of the Broad Ripple parking garage at 6280 N. College Ave. The 1,125-square-foot office is Enterprise's 36th Indianapolis-area location. It opened for business on Monday, with operating hours of 7:30 a.m. to 6 p.m. Monday through Friday and 9 a.m. to noon Saturday.
Local developer Keystone Group built the $15 million, 350-space parking garage with the help of a $6.3 million subsidy from city parking meter revenue. The development also includes 28,000 square feet of retail space. In 2016, city officials granted Enterprise a variance allowing it to build a rooftop office. Department of Metropolitan Development staff said at the time that the Enterprise project would fill "underutilized parking spaces" on the garage's top level.
— A new restaurant, Poke Guru, is coming to the Indianapolis City Market this summer. The restaurant will be located next to Mile Square Coffee, on the second floor of the market at 222 E. Market St. City Market says construction is planned to begin in early July, and the restaurant should be open for business by the end of July. The restaurant's owner is Adam Odgaard.
Poke, pronounced "po-kay," is a traditional Hawaiian dish sometimes described as "deconstructed sushi." It consists of rice, sushi-grade fish and other ingredients served in a bowl. Poke Guru also plans to offer vegetarian and vegan options.
— Capriotti's Sandwich Shop has opened a second Indianapolis location, this one at 1901 E. Stop 13 Road on the city's south side. The Las Vegas-based sandwich chain opened its first area location last year at 5320 E. 82nd St. in Castleton.
And, finally, a closing to note:
— Specialty game spot Game Paradise, at 118 E. Palmer St. just south of downtown, is in the midst of a going-out-of-business sale. The business describes itself as a game library—a spot where patrons pay to come and play games from the establishment's collection. Game Paradise opened in Fountain Square in 2013 and moved to its current location last August. In a Facebook post May 31, the business said it lost customers in the move and never gained traction in its new location. In preparation for closing, which is projected to happen July 31, Game Paradise is selling off its game library. Details about inventory and pricing can be found via the business' Facebook page.
Please enable JavaScript to view this content.