Attention foodies: Milktooth proprietor Jonathan Brooks' newest restaurant venture, Beholder, is set to open Thursday.
The restaurant, at 1844 E. 10th St. in the Windsor Park neighborhood east of downtown, will be open for dinner Monday through Saturday. But if you don't already have a reservation, you might have a tough time getting seated for at least the first few days.
"Very limited seating through this weekend," Brooks posted on his Instagram account Tuesday. "We may do a handful of walk-ins if we can handle it!!"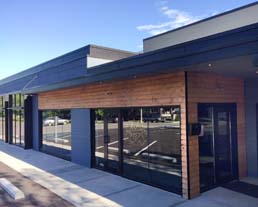 Beholder will be open for dinner Monday through Saturday. (IBJ Photo/Mason King)
As of Wednesday afternoon, Beholder's reservations website showed few if any spaces available for opening weekend Thursday, Friday and Saturday.
So far, Beholder has not said much about its menu. As of Wednesday, the restaurant's website had no information other than a link to its online reservations site. The reservations site describes the restaurant as offering "world-inspired small and large plates meant to be shared," along with a wine cellar and bar. 
"I think people can expect some pretty progressive food for Indianapolis," Brooks told Property Lines in June 2017 when he announced the project.
Brooks is the executive chef and a co-owner of Beholder, along with business partner Josh Mazanowski. Mazanowski was the sommelier at Recess, a Meridian-Kessler hotspot that closed in early 2017. The two met when Brooks was chef de cuisine at Recess.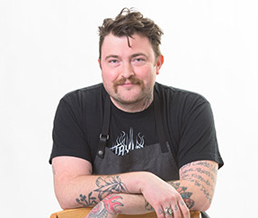 Jonathan Brooks (IBJ Photo)
Brooks opened Milktooth in 2014 on Virginia Avenue in the Fletcher Place neighborhood just north of Fountain Square. That establishment gained national attention in 2015 when Bon Appetit named Milktooth one of the country's best new restaurants. Brooks was also named one of Food & Wine magazine's Best New Chefs that same year.
In 2017, the online culinary site Eater named Milktooth one of America's 38 essential restaurants. On Wednesday, Eater provided a short preview of what to expect at Beholder.
Brooks told Eater he wants to maintain a focus on Midwest ingredients and regional culinary traditions.
"We want it to be sexy, delicious food," Brooks said. "We want people to feel sexy and comfortable in the space. … We'll push the boundaries, it will be fun, energetic, loud, comfortable, yet making really great food."
Eater continued: "To Brooks, this means sharable plates like grilled cucumber in a vinaigrette of burnt cucumber skin with cranberry seed oil and caviar, or buttered rye bigoli pasta with peppers, dried chicken, and herbs. Wine will also play an important role at Beholder, and Brooks envisions the restaurant as a place where Indianapolis diners can explore different varieties at reasonable prices in a relaxed atmosphere."
In other news:
— Brandon Burdine, who owns Brick & Mortar Barber Shop at 126 N. Delaware St., has teamed up with some silent partners to plan a second establishment—a combination coffee bar and barber shop called Commissary Barber and Barista—at 304 E. New York St. near Mass Ave.
Burdine said he expects to sign a lease within weeks for a 2,400-square-foot space on the basement level of the Vienna building, which sits on the northeast corner of the intersection of New York and Alabama streets. Construction should take several weeks after that, he said, with a projected opening in mid-August.
The establishment will devote half of its space to specialty coffee drinks with beans from Indianapolis-based Tinker Coffee Co., along with a selection of local beers and wines, pastries and sandwiches. The other half will be a barber shop that accepts customers on both an appointment and walk-in basis.
Each space will have its own exterior entrance, but the establishments will connect inside via an interior doorway. 
The concept, Burdine said, is more popular in Europe but hasn't caught on much yet in the U.S. "It's becoming a thing," Burdine said. "After reading about it and seeing how it worked I thought, 'I need to bring that to Indianapolis."
— Pots & Pans Pie Co. is planning to open its first retail location, at 4915 N. College Ave.The business was established about two years ago. Until now, it has distributed its pies by taking online orders and delivering them to customers at local farmers markets and other designated pick-up sites.
"We expect to open late summer," said Clarissa Morley, who owns the business along with her husband and mother. Pots & Pans will sell sweet and savory pies, either by the slice or whole. The establishment will also sell a small selection of breakfast items, coffee and other beverages, a seasonal salad and small house plants, Morley told IBJ.
 — A multipurpose business, Big Bazaar Indian Grocery and Kitchen, is in the works at 5425 E. Thompson Road, between Emerson and South Arlington avenues on the city's south side. It will fill the space formerly occupied by Sears Appliance & Hardware, which closed about 18 months ago.
General manager Baljinder "Ben" Singh told IBJ that Big Bazaar will include a liquor store, Indian grocery and sweets shop, a specialty meat shop, an Indian restaurant and a banquet hall that can accommodate 600 people. The project is being developed in stages, Singh said, with the liquor store set to open by the end of this month. The grocery store and meat shop will open in August or September, and the restaurant and banquet hall are under design, with construction expected to begin in August.
— The former Subway restaurant in Broad Ripple village, 901 Broad Ripple Ave., has a new tenant: Indy E Cigs. This is a relocation for the vape shop, which had been operating just down the street at 1430 Broad Ripple Ave.
"Our former building was purchased by developer to build housing units, which (meant) we were forced to move," Indy E Cigs CEO Ian Hull told IBJ.
In June 2017, developer Zinkan & Barker Development Co. announced its plans to build a $10 million, mixed-use development on the site where Indy E Cigs and a pet grooming business were located. The developer said it intended to demolish the existing building so it could construct up to 35 apartments and 7,000 square feet of ground-floor retail space on the one-acre site.
To wrap up this week, some information on a few store openings at local malls:
— Shoe Department Encore is set to open Aug. 1 at Castleton Square Mall. The retailer, part of Concord, North Carolina-based Shoe Show Inc., sells men's, women's and children's shoes. The store will occupy the space between Sears and Lane Bryant.
— Auspicious Boutique has opened at Circle Centre, near the Lids store on the second floor of the mall. The shop sells Tibetan gift items, including clothing, accessories, décor, jewelry, incense and bowls.
— Perfect Pick by Ebony Nicole opened May 24 at Greenwood Park Mall. The women's boutique also has locations at Castleton Square Mall and in Bloomington.
Please enable JavaScript to view this content.